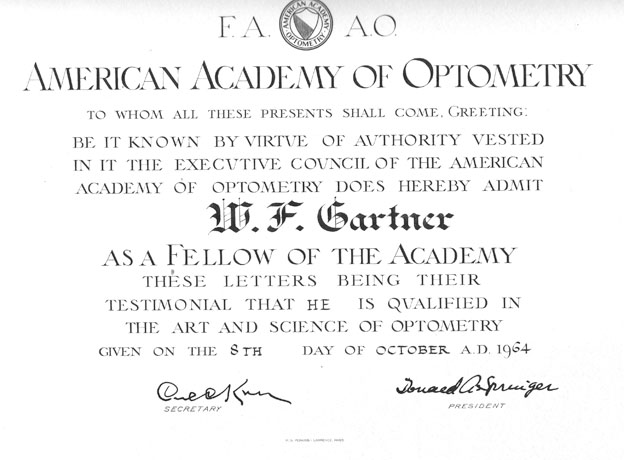 Certificate of the American Academy of Optometry for Austraiian optometrist Wolfgang F Gartner
Sub-Category:
Certificate, diploma
Association:
American Academy of Optometry
Year Of Publication/Manufacture:
1964
Time Period:
1940 to 1999
Place Of Publication/Manufacture:
Lawrence. Mass, USA
Publisher/Manufacturer:
H N Perkins (printer)
Description Of Item:
Off-white paper, 298 x 244 mm, pasted on stiff white card being the certificate of Fellowship of the American Academy of Optometry for Australian optometrist, Wolfgang Gartner, dated October 8 1964.
Historical Significance:
The American Academy of Optometry was founded in 1922 as a body to promote the highest standards of optometric practice, in terms of both professional conduct and practice. Fellows have to demonstrate their commitment to high standards by the presentation of case reports and oral examination. Fellows are entitled to use the affix FAOO. About 20% of USA optometrists are members of the Academy. Fellowship is open to non-American optometrists. Wolf Gartner was the third Australian optometrist to be elected a Fellow of the Academy, after University of NSW academic George Amigo and contact lens entrepreneur, Penrhyn Thomas.
How Acquired:
Donated by Wolfgang Gartner, Fellow of the College
Location:
Archive office. Pamphlet and ephemera filing cabinet. Drawer 5