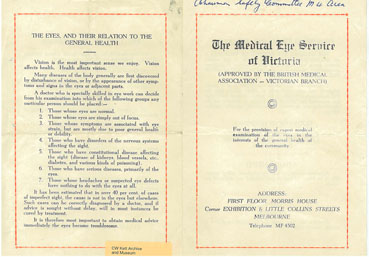 The medical eye service of Victoria
Category:
Memorabilia and ephemera
Sub-Category:
Advertising, ophthalmic practitioners
Association:
British Medical Association - Victorian Branch
Year Of Publication/Manufacture:
1936 ?
Time Period:
1900 to 1939
Place Of Publication/Manufacture:
Melbourne
Publisher/Manufacturer:
Medical Eye Service of Victoria
Description Of Item:
Single fold leaflet, 127 x 189 mm, printed in 2 colours red and black, being an advertising (patient formation) leaflet for the Medical Eye Service of Victoria located at First Floor Morris Street Corner Exhibition and Little Collins Streets Melbourne.
Historical Significance:
The Medical Eye Service of Victoria was established in 1937 to provide an intermediate cost ophthalmological service between the free public hospital service and private practice. The Supp BMJ June 19 1937 387 reports that the Victorian (Australia) Branch of the British Medical Association approved the Articles of Association of the Medical Eye Service of Victoria, which was started on July 1, 1936 and goes on to remark ' It is hoped that the new facilities will enable many patients who have hitherto attended public hospitals to make provision for themselves instead of depending upon charity.' This leaflet gives hours of service (Mon to Fri 9.15 am to 11 am and 1.30 to 3 pm and 4.30 pm). It says the fees are One pound fifteen shillings ($ 3.50) for a complete eye examination, advice, prescriptions for drugs and glasses if needed and a report to the patients doctor. It says arrangements have been made for supply of glasses at reduced rates. The back page gives advice on the eyes and relation to general health and states that medical advice should be obtained 'when the eyes become troublesome'. Dr Archibald Anderson (1891 - 1975) was one of the founders. See his Obit Aust J Ophthal 1975 3(2):69-72. This service may have been established to counter the rising status of optometrists, who had obtained registration in 1935, and who very commonly offered free eye examinations.
How Acquired:
Donated by Wolf F Gartner, Fellow of the College
Location:
Archive office. Pamphlet and ephemera filing cabinet. Drawer 5