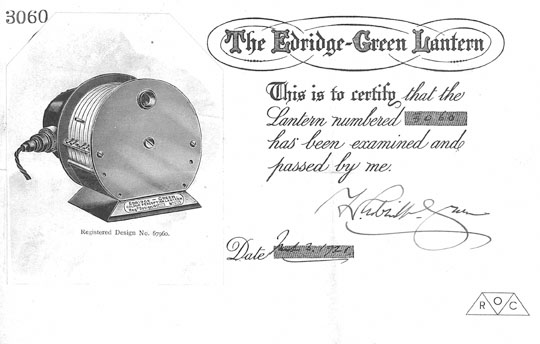 Certificate of quality assurance for an Edridge-Green lantern test of colour vision
Sub-Category:
Certificate, diploma
Corporation:
Raynor Optical Company
Year Of Publication/Manufacture:
1921
Time Period:
1900 to 1939
Place Of Publication/Manufacture:
London
Publisher/Manufacturer:
Raynor Optical Company
Description Of Item:
Paper certificate, 215 x 140 mm, stating 'Edridge-Green Lantern. This is to certify that the lantern numbered 3060 has been examined and passed by me' with the date March 3 1921. The signature is probably that of the inventor Frederick Edridge-Green. The certificate is numbered 3060. A logo containing the letters ROC (= Raynor Optical Company) is in the right bottom corner. There is an etching illustration of the test on the left side with the words 'Registered design No 67960'.
Historical Significance:
This lantern test was first devised in 1891 but in a very different form. It was completely re-designed in the early 20th C to incorporate an electic lamp. This certificate shows that the redesign was in or before 1921. Dr Edridge-Green (1863-1953) was an English ophthalmologist who wrote on colour vision and colour blindness, although his views were more driven by a sense of self-importance than matters of lasting significance (see Parsons JH Dr Edridge-Greens' Theories of Vision. Br J Ophthalmol 1920;4359-367). He devised his lantern test in 1891, when an advisor to the British Board of Trade, which at the time was struggling to get its colour vision testing of seafarers right. (See Cole BL and Vingrys AJ Lantern tests of color vision Amer J Optom Physiol Optics 1982;59:346-374). (See Cat 571). He devised it in the expectation that it would be adopted by the Board of Trade. It was not, and the Board of Trade decided to use the Holmgren Wool Test and later, in 1913, its own lantern test, much to Edridge-Green's chagrin, who expressed his displeasure in angry exchanges in Brit Med J in 1912 and 1914. This test was adopted however by the Royal Navy, the US Navy and several railway authorities. The original version of his test looked very different from this version which dates from the 1960s. The procedures for the test and how its results should be interpeted were never well defined (Edridge Green said he tested with it until he was certain of his diagnosis). It was superseded by the Board of Trade test of 1913, which became the Holmes Wright Type B lantern test in 1974. The Farnsworth lantern of 1946 became the favoured test in the USA.
Condition:
Fair: some yellowing, fold creases amd a small tear on the L margin
Location:
Archive room. West wall. Unit 1 Overhead display