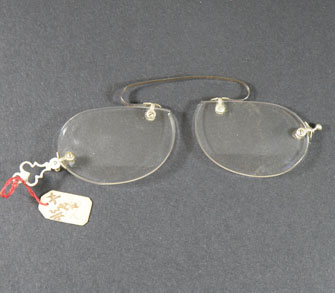 Folding rimless pince-nez with high minus lenses
Category:
Spectacles and lenses
Year Of Publication/Manufacture:
Late 19th C
Description Of Item:
Rimless pince-nez with tempered steel spring bridge fitted directly to the lenses with screws. The temporal rim of the right lens has a fancy steel handle with a post to catch the small metal post on the temporal rim of the left lens to hold the pince-nez folded. The lenses are semi-oval (tear drop) shape flat glass lenses, R and L - 6.00 D Sph and have a finely ridged nasal sections to grip the nose (in the absence of nose pads). There is an original ticket attached to the handle with the notation 3/6, presumably 3 shillings and 6 pence (35 cents) suggesting that the pince-nez are unused ready-made glasses.
Historical Significance:
A similar item is at Cat No 668
How Acquired:
Donated by Michael Aitken, honorary archivist
Location:
Archive Office. Spectacles cabinet Drawer 9