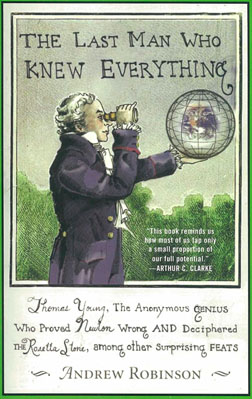 The last man who knew everything. Thomas Young, the anonymous genius who proved Newton wrong and deciphered the Rosetta Stone among other surprising feats
Sub-Category:
Hewett collection
Year Of Publication/Manufacture:
2007
Place Of Publication/Manufacture:
London
Publisher/Manufacturer:
Plume (Penguin Group)
Description Of Item:
Paper bck, 288 pages, frontispiece portrait of Thomas Young. Illustrated in black and white in text
Historical Significance:
This is a biography of the great polymath Thomas Young (1773-1829). The author's researches are wide but for optometrists his work on optics, accommodation, astigmatism and colour vision is the most significant.
How Acquired:
Purchased by Kett Museum
Date Acquired:
August 2011
Location:
Nathan Library. Hewett collection