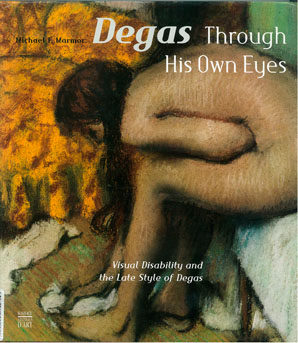 Degas through his own eyes. Visual disability and the late style of Degas
Sub-Category:
Hewett collection
Year Of Publication/Manufacture:
2002
Place Of Publication/Manufacture:
Italy
Publisher/Manufacturer:
Somogy editions d'art, Paris
Description Of Item:
New pictorial dust wrapper, brown cloth covers, 104 pages, profusely illustrated mostly in colour.
Historical Significance:
Michael Marmor is a professor of ophthalmology at Stanford University School of Medicine. In this book he endeavours to analyse the late style of Degas (1834-1917) in terms of his failing vision. Marmor has published a number of papers of vision and art including: Ophthalmology and art: simulation of Monet's cataracts and Degas' retinal disease. Arch Ophthalmol. 2006;124(12):1764-9.; Was Rembrandt stereoblind? N Engl J Med. 2005;352(6):631-2; Escher and the ophthalmologist. Surv Ophthalmol. 2003; 48(3):356-61. The dilemma of color deficiency and art. Surv Ophthalmol. 2001; 45(5):407-15.. He has also written The artist's eyes : vision and the history of art with James G Ravin 2009.
How Acquired:
Purchased by Kett Museum
Location:
Nathan Library. Hewett collection