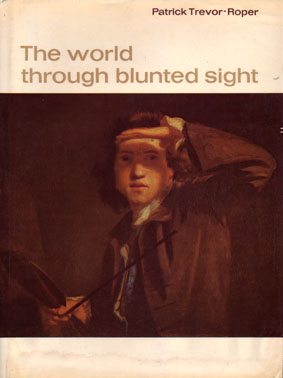 The world through blunted sight. An inquiry into the influence of defective vision on art and character
Sub-Category:
Hewett collection
Author:
TREVOR -ROPER Patrick
Year Of Publication/Manufacture:
1970
Edition:
1st American Edition
Time Period:
1940 to 1999
Place Of Publication/Manufacture:
London
Publisher/Manufacturer:
Souvenir Press Ltd
Description Of Item:
Pictorial colour printed dust jacket, fawn cloth covers, 191 pages, 24 colour plates, 78 black and white plates and several black and white figures in text, 8 pages of notes, 196 references.
Historical Significance:
This book is a well known work on art and defective sight. It discusses the effect of myopia, colour blindness and cataract on artistic endeavour. It uses numerous well known poets, philosophers, writers, artists and musical composers as examples. Patrick Trevor-Roper (1916 - 2004) was a prominent British ophthalmologist. He was also a pioneer gay rights activist, was one of the first people in the United Kingdom to "come out" as openly gay, and played a leading role in the campaign to repeal the UK's anti-gay laws. In 1955 Trevor-Roper agreed to appear as a witness before the Wolfenden Committee, which had been appointed by the British government to investigate (among other things) whether male homosexuality should remain a crime. He was one of only three men who could be found to appear as openly-gay witnesses before the Committee. The book 'The World Through Blunted Sight' argues that the proportions, perspectives, and palette of many famous painters was related to eyesight conditions such as short sight, astigmatism, glaucoma, and cataract. See his obituary BMJ 2004;328:1137 (8 May), doi:10.1136/bmj.328.7448.1137. A revised paperback edition was published in 1997 and is held at Cat No 1112.
How Acquired:
Donated by Robert Kaye, Sydney optometrist
Location:
Archive room. East wall. Books of historical note