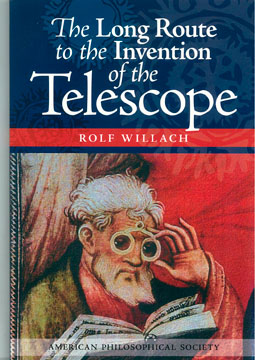 The long route to the telescope
Sub-Category:
Hewett collection
Year Of Publication/Manufacture:
2008
Place Of Publication/Manufacture:
Philadephia
Publisher/Manufacturer:
American Philosophical Society
Description Of Item:
Pictorial colour paper back, 116 pages, 96 black and white figures in text, references and index
Historical Significance:
The telescope is usually dated from 1608 when a telescope was exhibited in The Hague, although its exact origins are uncertain (see Albert Van Helden The Invention of the Telescope 1977. This book by Willach takes the story of its invention further. Rolf Willach (1937-) was an optical engineer and, as an interest, tested the optical quality of anitique spectacle lenses, the results of which are reported in this book. The book is as much about spectacle lenses as it is about telescopes, since good quality lenses had to precede the invention of the telescope. See also Ilardi V, Renaissance vision from spectacles to telescopes 2007 Cat No 1098.
How Acquired:
Purchased by Kett Museum
Location:
Nathan Library. Hewett collection