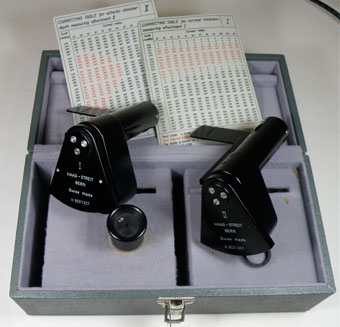 Attachments to the Haag-Streit slit lamp for measuring I corneal thickness optical pachymeter and II anterior chamber depth
Sub-Category:
Pachymeter, anterior chamber depth
Year Of Publication/Manufacture:
c 1970
Time Period:
1940 to 1999
Place Of Publication/Manufacture:
Bern, Switzerland
Publisher/Manufacturer:
Haag-Streit
Description Of Item:
Two attachments for the Haag-Streit slit lamp, one for measuring corneal thickness (pachymetry) and one for measuring anterior chamber depth, contained in a fitted grey vinyl covered box, 250 mm W X 125 mm D x 96 mm H, hinged lid with catch, grey felt interior lining, compartment in lid contains two grey cards giving correction data for each attachment for corneal curvature. The name Haag-Streit AG printed on lid.
Historical Significance:
Haag-Streit is a Swiss ophthalmic instrument manufacturer founded in 1859 originally as a mechanical precision manufacturer. Its first large contract was to make meteorologic measuring instruments for the weather station of the central observatory in St. Petersburg, Russia. A few years later the company made its first steps in the field of ophthalmology but success was, at first, slow to come. A collaboration with Prof. Dr. Hans Goldmann, from the University of Bern, brought the breakthrough from which a range of instruments were developed that became bench mark instruments for companies to follow, including the 320 slit lamp (1933), the Goldmann perimeter (1945), the Goldmann applanation tonometer (1957) and the Goldmann-Weekers dark adaptometer (1952). The present company name dates from 1925. The instruction manual is held by the museum. See Cat No 2027.
How Acquired:
Donated by Alan Isaacs, honorary life member of the College
Location:
Archive room. West wall. Unit 6 Drawer 3