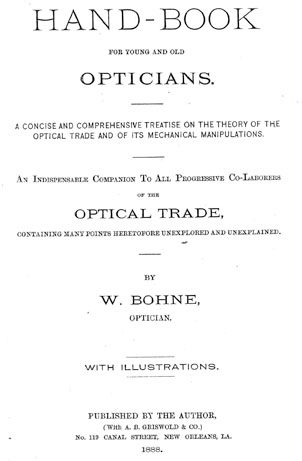 Hand-book for young and old opticians
Sub-Category:
Significant book (Aitken collection)
Year Of Publication/Manufacture:
1888
Place Of Publication/Manufacture:
New Orleans, USA
Publisher/Manufacturer:
Author (with A B Griswold and Co
Description Of Item:
Original brown cloth, gilt stamped. Protective transparent wrapper. 108 pages, black and white illustrations throughout. Author's signature on front fly leaf.
Historical Significance:
William Bohne (1827-1906) was a teacher in Germany before emigrating to the United States in 1852. He worked as an optician (as optometrists were known at that time) in New Orleans in the second half of the nineteenth century. His book, Handbook for Opticians, which went through three editions, has been claimed to have been the first optical care textbook written by an American optometrist. See Goss DA Hindsight 2011; 42: 14-16 and also the author's claim of primacy in the preface page 8. It is certainly one of the first optometry text books book written by an optometrist. The later and expanded ediitons were in 1892 and 1895. The Aitken collection holds a copy of the 3rd edition Cat No 254.
How Acquired:
Donated by Michael Aitken, honorary archivist
Date Acquired:
March 2011
Condition:
Missing frontispiece and breaking at top and bottom of spine. Otherwise very good.
Location:
Nathan Library. Aitken collection