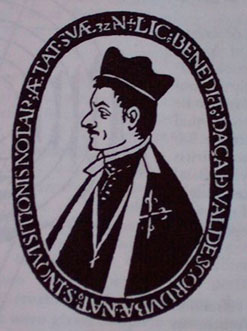 Sub-Category:
Hewett collection
Author:
de VALDES Benito Daza (Translated by Paul E Runge)
Year Of Publication/Manufacture:
2004
Place Of Publication/Manufacture:
Belgium
Publisher/Manufacturer:
G Schmidt
Description Of Item:
This is a printing of the English translation made by US ophthalmologist Dr Paul E Runge of the 1923 Spanish language edition of the book by Benito Daza de Valdes, originally published in 1623. White dust wrapper with the title in black print and a black and white illustrative motif, with clear protective covering. Blue cloth covers with embossed gilt frame on front and gilt title on the spine. Quarto size. 281 pages, with numerous black and white illustrations. It includes SECTION 1 (1) preface to the English language edition by Dr Runge (2) a commentary by Dr Manuel Marquez written to accompany the 1923 Spanish language edition that was prepared for the 300th anniversary of the original book at the request of the Hispanoamerican Ophthalmological Society and printed as Volume 4 in the Classical Library of Spanish Medicine. This section includes an account of the circumstances leading to his making a Spanish translation, the history of eyeglasses and a number of examples of anachronisms in the form of painting depicting eyeglasses in scenes set in a period well before their invention, and (3) the English translation of de Valdes book. SECTION 2 includes 5 appendices including photographs and facsimiles of the of the original 1623 book and postage stamps featuring de Valdes.
Historical Significance:
The original book is arguably the oldest optometry textbook. It was originally written in Spanish and published in 1623 under the title Uso de los Anteojos. Its author Benito Daza de Valdes (1591-1634) was a Friar and an officer of the Spanish Inquisition. Hoffsetter (Am J Optom Physiol Opt. 1988 May;65(5):354-7) in reviewing the English translation comments that 'The first of its three parts deals with the nature and properties of the eye and its refractive conditions. The second discusses contemporary spectacle lenses and frames in technological and utilitarian detail. The third and major part in the style of Platonian dialogue describes a variety of clinical optometric problems and their practical solutions. The procedural similarities to today's mode of optometric analysis is remarkably evident.' This printing of the translation is published as part of the monogaphs of the Hirschberg History of Ophthalmology. The version reviewed by Hofstetter in 1988 seems to have been in manuscript form only and held in only a few locations.
How Acquired:
Purchased by Kett Museum
Date Acquired:
March 2012
Location:
Nathan Library. Hewett collection