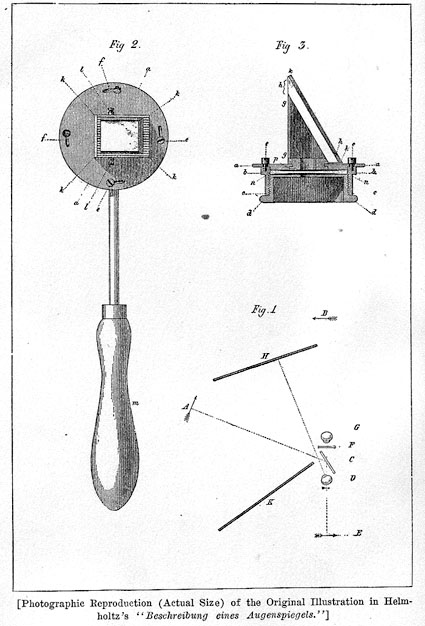 The description of an ophthalmoscope, being an English translation of von Helmoltz's 'Beschreibung eines Augenspiegels'
Sub-Category:
Significant book (Aitken collection)
Author:
HELMHOLTZ Hemann von (Translator SHASTID Thomas Hall)
Year Of Publication/Manufacture:
1916
Time Period:
1900 to 1939
Place Of Publication/Manufacture:
Chicago USA
Publisher/Manufacturer:
Cleveland Press
Description Of Item:
Original gilt-stamped brown cloth cover, 33 pages, frontispiece illustrating the ophthalmoscope reproduced from the original book. Ex-library copy with pictorial book plate from NorthWestern University Medical School (USA) and sticker 'with translator's compliments' on front paste down. Library card pocket on back pastedown. Library markings on front cover, title page, dedication page and page 33.
Historical Significance:
Arguably the most significant advance in the practice of ophthalmology and optometry was the invention of the ophthalmoscope by German physiologist, Hermann von Helmholtz in 1851. This instrument enabled the retina and other interior structures of the eye to be viewed. This book is an English translation of the original description of the invention published in Berlin by The A Forstner Publishing House in 1851. It had a limited print run of 500 copies for private distribution only. Herman von Helmholtz (1821 - 1894) is a towering figure in vision science. He qualified in medicine at the Berlin Medical Institute in 1843 and began researching while on military service as a physician in Potsdam. By 1858 he was Professor of Anatomy & Physiology in Bonn and after professorial appointments in Konigsberg & Heildelberg became Professor of Physics in Berlin in 1871. He is best known for his work on mathematical physics and acoustics but is also the father of vision science (See Cat Nos 84. 85, 86 and 2008 for the English language edition of Helmhotz' Treatise on Physiological Optics'.)
How Acquired:
Purchased by Kett Museum
Date Acquired:
March 2012
Condition:
Good apart from library markings
Location:
Nathan Library. Aitken collection