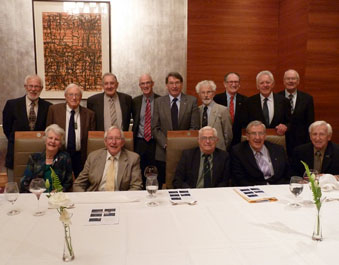 Past leaders of the optometry profession in Victoria Second half 20th C
Sub-Category:
Photograph People and events
Year Of Publication/Manufacture:
2012
Place Of Publication/Manufacture:
Melbourne
Description Of Item:
Digital colour image of former officers of the Victorian College of Optometry and the Optometrists Association. Those pictured are from left: Seated. Dawn Odgers, Ross Harris, Dr David Cockburn OAM, Profrssor Barry Cole AO, William Cooper, Standing from left: Michael Aitken, Dr Alan Isaacs, John Strachan, Associate Professor Jonathon Jackson (ACO Clinic Director and Guest speaker), Dr Rod Watkins AM, Wolf Gartner, Professor Barry Collin AM, Dr John Nathan, Bruce Besley
Historical Significance:
This group of retired Victorian optometrists played active roles in the OAA, the Victorian College of Optometry or in academic optometry in the period 1950 to 2000. They met for lunch once a year from 2005. The photograph was taken in May 2012. The group has become known as the gerioptics. See similar photos from different years at cat No 990, 1193 and 1839.
How Acquired:
Donated by Michael Aitken
Location:
Archive computer iPhoto