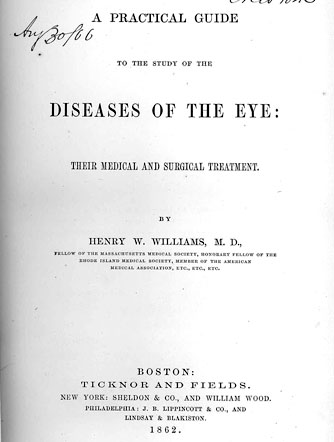 A practical guide to diseases of the eye
Sub-Category:
Significant book (Aitken collection)
Author:
WILLIAMS, Henry Willard
Year Of Publication/Manufacture:
1862
Place Of Publication/Manufacture:
Boston
Publisher/Manufacturer:
Ticknor and Fields
Description Of Item:
Original embosed brown cloth cover, 317 pp plus index. Inscribed on titile page 'Carroll Dunham MD 68 East 12 Street New York' with the date Aug 30 66.
Historical Significance:
Henry WILLIAMS, physician, born in Boston, Massachusetts, 1821 and educated in the schools of Boston and Salem. From 17 until 24 he was engaged in mercantile business. He graduated in medicine at Harvard in 1849, practised in Boston, Massachusetts, and became distinguished as an oculist. He was ophthalmic surgeon to the Boston City hospital, lecturer in Harvard Medical School in 1869-71 and professor of ophthalmology. He also published 'Optical Defects in School-Children" (1868); and "The Diagnosis and Treatment of Diseases of the Eye" (1886). See also cat Nos 32, 39 and 602. This book includes a Chapter (II) on the ophthalmoscope that had been invented by Helmholtz just 11 years earlier. It has a paragraph on colour blindess (Chapter XIX 'Pecularities of vision' ). There is a Chapter (XX) on refractive errors and presbyopia and one on the choice of glasses (Chapter XXI). Williams was one of the first ophthalmologists to insist that refraction should be done by ophthalmologists so that a measure of best visual acuity could be made.
How Acquired:
Donated by Michael Aitken, honorary archivist
Condition:
Very good: slight breaking of cloth at top of spine.
Location:
Nathan Library. Aitken collection