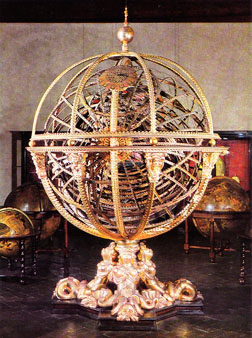 Gli strumenti orginali di Galileo at the Museo di Storia della Scienza di Firenze (The original instruments of Galileo at the Museum of History of Science in Florence)
Author:
BONELLI, Maria Luisa
Year Of Publication/Manufacture:
1964
Time Period:
1940 to 1999
Place Of Publication/Manufacture:
Ludwigshafen am Rhein
Publisher/Manufacturer:
Badische Anilin and Soda-Fabrik
Description Of Item:
Booket, A4 size, light grey card cover, 8 pages, 7 illustrations, 5 in colour, in Italian. Slipped in is a reprint of a paper by M L Bonelli (in English) on the 'Unpublished letters on Campani's and Divinis's telescopes' from Ithaca 26 VIII-2 IX 1962.
Historical Significance:
This booklet describes some of Gallileo's instruments held in the Floence Museum of Science. Galileo Galilei (Italian pronunciation: [ ali l o ali l i]; 1564 - 8 January 1642), was an Italian physicist, mathematician, astronomer, and philosopher who played a major role in the Scientific Revolution. His achievements include improvements to the telescope and consequent astronomical observations and support for Copernicanism. Galileo has been called the "father of modern observational astronomy" the "father of modern physics", the "father of science", and "the Father of Modern Science".
How Acquired:
Donated by Michael Airken, honorary archivist
Location:
Archive office. Pamphlet and ephemera filing cabinet. Drawer 5