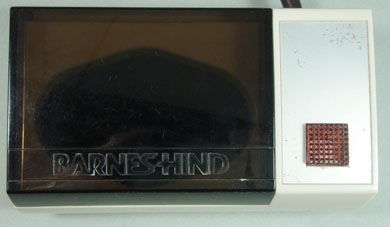 Barnes-Hind Soft Mate Thermal DisinfectionUnit
Category:
Spectacles and lenses
Sub-Category:
Contact lenses and accessories
Designer/inventor:
Barnes-Hind
Year Of Publication/Manufacture:
c1978
Time Period:
1940 to 1999
Place Of Publication/Manufacture:
USA
Publisher/Manufacturer:
Barnes-Hind
Description Of Item:
Electric disinfecting unit for heat disinfection of soft contact lenses. Fawn & brown plastic. Rear includes instructions and'BARNES-HIND/ SOFT MATE THERMAL DISINFECTION UNIT/ Distributed by Barnes-Hind Pharmaceuticals Inc. Sunnyvale CA 94086 Made in USA/ Patents Pending/ 240VAC 50HZ 30W 14-6111/ SER NO 054785'. 11.8cm W x 7.3cm D x 4.2cm H (excludes lead).
Historical Significance:
Heat disinfection was used for soft contact lenses in the 1970s & 1980s.
How Acquired:
Donated by Robert Kaye
Date Acquired:
11.10.2011
Location:
Archive room. West wall. Unit 6 Drawer 5