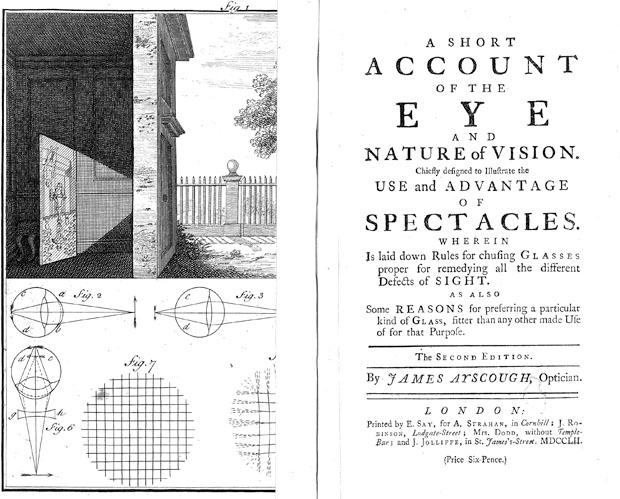 A short account of the eye and nature of vision. Chiefly designed to illustrate the use and advantage of spectacles. Wherein are laid down rules for chusing glasses proper for remedying all the different defects of sight. As also some reasons for preferring a particular kind of glass, fitter than any other made use of for that purpose.
Sub-Category:
Significant book (Aitken collection)
Year Of Publication/Manufacture:
1752
Time Period:
18th C and earlier
Place Of Publication/Manufacture:
London
Publisher/Manufacturer:
Printed by E Say for A Strahan
Description Of Item:
Recently bound in old style marbled boards and quarter leather (in original form the book had paper wrappers), half title, folding engraved plate as frontispiece, title page, 26 numbered pages, 2 page advertisement for J Ayscough
Historical Significance:
This is one of the earliest English language books written by an optician. It is an important example of optometric incunabula. The first edition was published in 1750. The author, James Ayscough (died 1759), was an English optician and designer and maker of scientific instruments. He worked at premises indicated by the sign of the 'Great Golden Spectacles' in Ludgate Street in London between 1740 and 1759. He had been apprenticed to an optician named James Mann from 1743 to 1747. Around the year 1752, James Ayscough introduced spectacles with double-hinged side pieces. Although he made clear lenses, he recommended lenses tinted blue or green to treat some vision problems. These spectacles with tinted lenses are believed to be the precursors to sunglasses. Ayscough also made instruments which required ground lenses, such as telescopes, microscopes and thermometers as well as optical instruments made for amusement, such as magic lanterns.
How Acquired:
Donated by Michael Aitken, honorary archivist
Date Acquired:
18 June 2012
Condition:
Good except for old stain first several pages
Location:
Nathan Library. Aitken collection