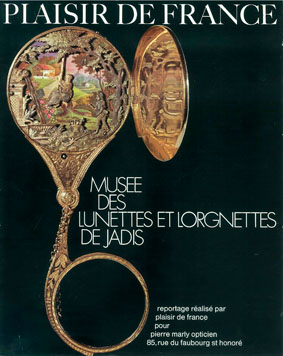 Musee des lunettes et lorgnettes de jadis
Sub-Category:
Brochure/pamphlet/leaflet (museums)
Time Period:
1940 to 1999
Place Of Publication/Manufacture:
Paris
Publisher/Manufacturer:
Plaisir de France.
Description Of Item:
Colour printed paper wrappers, centre fold stapled, 5 numbered pages, 8 excellent colour illustrations.
Historical Significance:
Pierre Marly was a French optician who completed his apprenticeship in 1948. He quickly developed a name for his creative designs for spectacle frames. He set up shop in Paris in 1951 and custom-made spectacles for crowned heads and the famous (including Audrey Hepburn in 1951). He also collected glasses and lorgnettes, some 3000 items, over 40 years which formed the Pierre Marly Collection that was for some years open to public viewing in Paris. The collection was acquired by Essilor and is now on display at the The Musee des Lunettes et Lorgnettes in Morez. This pamphlet desrcibes the Marly collection in Paris. A more deteiled account to the collection can be found in the book 'Spectacles and spyglasses' by MARLY Pierre with texts by Jean-Claide MARGOLIN and Paul BIERENT, translated by Barry TULETT 1988 held in the Hewett Collection. See Cat No 1102.
How Acquired:
Donated by Michael Aitken. honorary archivist
Location:
Archive office. Pamphlet and ephemera filing cabinet. Drawer 5