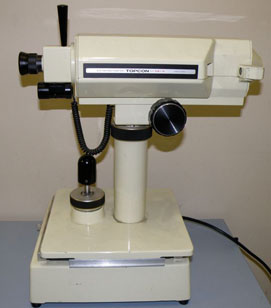 Topcon Eye refractometer Model RM 1
Time Period:
1940 to 1999
Place Of Publication/Manufacture:
Tokyo, Japan
Publisher/Manufacturer:
Topcon
Description Of Item:
Eye refractometer, RM-18, cream enamel finish, identified as the Topcon Eye Refractometer RM-18 on right hand side of the instrument head and on the prodcut plate on the base as 'TOPCON EYE-REFRACTOMETER MODEL 1B No (Illegible) Tokyo Kogakui Kikai K.K. Made in Japan'
Historical Significance:
The Tokyo Optical Company was established in 1932 to make surveying instruments initially, binoculars in the 1940s and cameras in the 1960s. It produced its first refractometer RM-1 in 1951. It grew to become one of the world's largest manufacturer of a very wide range of ophthalmic instruments adopting the name Topcon in 1953.
Date Acquired:
March 2012
Condition:
Good except missing chin and head rest
Location:
Archive office. East wall shelves unit 2