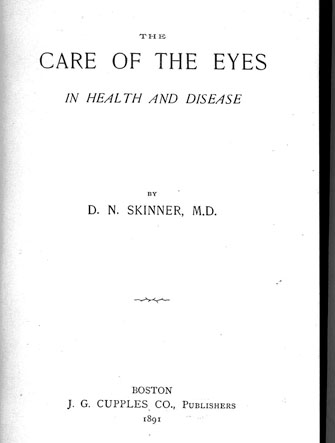 The care of the eyes in health and disease
Sub-Category:
Significant book (Aitken collection)
Author:
SKINNER Davis Nevens
Year Of Publication/Manufacture:
1891
Place Of Publication/Manufacture:
Boston USA
Publisher/Manufacturer:
J P Cupples Co
Description Of Item:
Original brown cloth cover, 116 pages plus 7 unnumbered pages of book advertisements, 14 black and white figures in text. Nine chapters dealing with the anatomy and physiology of the eye, the physiology of vision, defects of vision (refractive errors), spectacles, diseases of the eye, injuries to the eye, suggestions for the care of the eyes and eye diseases in childhood,
Historical Significance:
The author was medically qualified. This book seems to be a serious layman's guide to the eye and vision.
How Acquired:
Donated by Michael Aitken, honorary archivist
Date Acquired:
25 June 2012
Location:
Archive room. East wall. Books of historical note