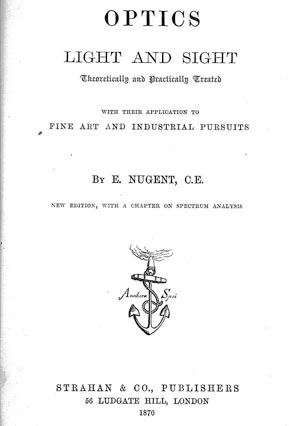 Optics. Light and sight theoretically and practically treated with their application to fine art and industrial pursuits
Sub-Category:
Book of historical note
Year Of Publication/Manufacture:
1870
Edition:
New edition (2nd)
Place Of Publication/Manufacture:
London
Publisher/Manufacturer:
Strahab and Co
Description Of Item:
Original decorated brown cloth cover, 268 pages, 118 black and white diagrams and illutrations through text. Old owership inscription for D McGlazlon (/) London Nov 1872 on verso of title page also an irreverant note in ink on back fly leaf.
Historical Significance:
The first edition of the book was published in 1868. It is a general text in optics with an interesting history of optics and optical devices in Chapter 1. Chapter 14 is on the eye and Chapters 16, 17 and 18 deal with practical applications of optics.
How Acquired:
Donated by Michael Aitken, honorary archivist
Date Acquired:
25 June 2012
Condition:
Good except some markings on front cover
Location:
Archive room. East wall. Books of historical note