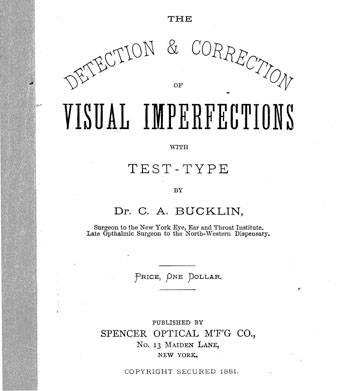 The detection and correction of visual imperfections with test-type
Sub-Category:
Book of historical note
Year Of Publication/Manufacture:
1881
Place Of Publication/Manufacture:
New York
Publisher/Manufacturer:
Spencer Optical Manufacturing Company
Description Of Item:
Original plum cloth cover, gilt lettered, 75 numbered pages, astigmatic chart page, folding letter chart and 3 advertising pages including an excellent view of the Spencer Optical Company building. There is a test of near vision on page 73 Several pencilled names of New York ophthalmologists and rubber stamp for LW Thomson of Cherry Valley NY on front paste down and fly leaf.
Historical Significance:
The publisher, Spencer Optical Manufacturing Company, was one of the early ophthalmic manufacturing laboratories in the USA. It was an existing company in 1858 when James E Spencer bought it from his retiring employers and then renamed it eponymously a few years later. It grew to a sizeable company by 1897 employing 2500 people. It made lenses, spectacle frames, magnifiers, binoculars and opera glasses. See cat No 108 for another book of similar kind published by the Spencer Optical Company. Dr Bucklin was a New York ophthalmologist.
How Acquired:
Donated by Michael Aitken, honorary archivist
Condition:
Fair. A large section of the folding letter chart has been torn away
Location:
Archive room. East wall. Books of historical note