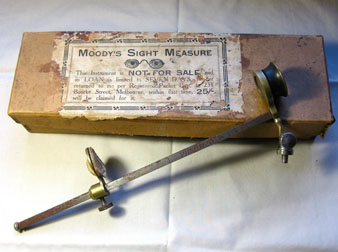 Simple optometer in cardboard post box
Year Of Publication/Manufacture:
1900
Time Period:
1900 to 1939
Description Of Item:
Simple optometer, with lens and eyecup, square cross-section metal rod scaled on the upper surface and sliding test target with locking screw. Screw for handle with tilt adjustment (handle missing). Test target is printed letters words pasted on card. Length 28 cm including eye cup. Brown cardboard post box 32 cm L x 9.5 cm W x 5.1 cm H with metal reinforcement on corners of both box and lid. Printed label pasted on lid reading 'MOODY'S SIGHT MEASURE. This instrument is NOT FOR SALE and its LOAN is limited to SEVEN DAYS (if) not returned to me per Registered Packet Post to 231 Bourke Street Melbourne within that time, 25/- will be claimed for it.' There is a decorative border to the label which also bears a logo of a pair of eye frames by glasses. The scaled bar has 'H MOODY' scratched on it.
Historical Significance:
Optometers were invented by Knapp and Badal in 1870 as a way to measure refractive error of the eye and were used in ophthalmic practice in the closing years of the 19th C and the early years of the 20thC. However, other, better, means of measuring refractive error emerged quickly in the last decades of the 19th C to supplant the optometer. The label strongly suggests that the Melbourne optometrist Miss H Moody posted this instrument to her country patients so they could measure their refractive error and she could make glasses with lens powers indicated by the measurements and supply them by post. Another example of sight testing by post is the Viiuscope of Victorian optometrist Henri VanHeems (1813-1917) (See cat No 797). Miss Moody was in optometric practice at least from 1902 to 1914. The Museum holds three testimonial letters addressed to her dated 1902. 1905 and 1914. She was a foundation member of the Victorian Optical Association, the only woman among 26 foundation members (See cat No 1641). The museum holds her certificate of membership of the Association dated May 23 1911, the day the Association was established (Cat No 2056). She was not an applicant for Registration in 1935 nor was she registered under the the new Opticians Registration Act of Victoria 1935 when the first optometrists were registered in 1936. She may have retired from practice by that date. A claim could be made that Miss Moody was the first woman optometrist in Victoria.The Museum has records of a Miss Ida Ghent (Cat Nos 91, 1472) another early woman optometrist in Victoria. She obtained her Fellowship of the VOA in 1921 and was among 8 women optometrists to be first registered unde the 1935 Opticans Registration Act.
How Acquired:
Donated by John Boxshall 597 Canning Street, Carlton N, Vic 3054
Date Acquired:
March 2009
Condition:
Handle missing, rust on scaled rod. Label on box silverfish eaten
Location:
Archive room. West wall. Unit 5 Overhead display