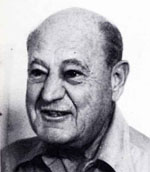 What you should know about contact lenses
Sub-Category:
Published articles
Author:
SALVATORI Philip L
Year Of Publication/Manufacture:
1951
Time Period:
1940 to 1999
Place Of Publication/Manufacture:
New York
Publisher/Manufacturer:
Reprint from The Ophthalmic Dispenser
Description Of Item:
Two fold sheet, 227 mm x 149 mm when folded, 4 printed pages plus title page, black and white photograph of the author under which is an editor's note describing his background.
Historical Significance:
Philip Salvatori (d 1883) was an early developer of contact lenses. Philip L. Salvatori served in the US Army Medical Department as a surgical assistant and in the US Navy as a pharmacist's mate. He had a short spell as professional boxer, studied for two years in Rome and spent two years at the New York Business School. He then had a brief period as secretary to an ophthalmologist before becoming an ophthalmic dispenser and setting up his own firm in New York. In 1935 Salvatori became founder and first President of the Society of Dispensing Opticians USA. With Theodore Obrig (1896-1867) he established the Obrig Laboratories in New York in 1938 to make contact lenses using PMMA rather than glass. He wrote an important text on contact lenses in 1947. (See Cat No 599). He also wrote The Story of Contact Lenses in 1960. (See Cat No 619). During the 1840s and early 1950s his books were the best source of information on contact lenses. Salvatori received the Dallos medal from the Contact Lens Manufacturers Association in 1974.
How Acquired:
Donated by John Strachan, member of the College and one of the pioneer contact lens practitioners in Australia
Location:
Archive office. Pamphlet and ephemera filing cabinet. Drawer 5