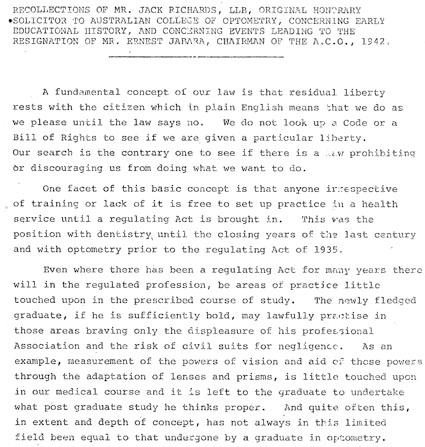 Recollections of Mr Jack Richards LLB original solicitor to Australian College of Optometry, concerning early educational history, and concerning events leading to the resignation of Mr Ernest Jabara, Chairman of the ACO, 1942
Sub-Category:
Letter, notes, memos
Year Of Publication/Manufacture:
After 1981
Time Period:
1940 to 1999
Place Of Publication/Manufacture:
Melbourne
Description Of Item:
Nine A4 pages of single sided typescript stapled at top, unsigned and undated.
Historical Significance:
This document gives an account from the authors viewpoint of the origins of the Australian College of Optometry and the schism between Ernest Jabara and the College Council in 1942.. The author was the solicitor to the ACO and he drafted the first constitution of the College and effected its incorporation. It gives his view on the character and abilities of several key players, including Ernest Jabara, Bertram Nathan, Earl Coles, Sam Raphael, Roy Werner, and C Dobbie. Mention is made of Professor Arthur Amies and Professor Roy Wright. The authors speaks well of Ernest Jabara as a visionary for the future of optometry but sees his character fauilts. It recounts the fall out between Jabara and the ACO Council nominally over the unauthorised purchase of gas heaters in the College premises but actually over over Jabara's dominating manner and ineffectiveness in developing the new optometry course, although the latter is not acknowledged by the author. The Kett Muesum holds a considerable amount of documentary material about Jabara and the schism but for an overview see the paper about Bertram Nathan under the tab 'People who made history'. The paper was written well after the events of 1942 since there are references to Jabara's death in 1981 and other events in the 1980s.
Location:
Archive office. Pamphlet and ephemera filing cabinet. Drawer 5