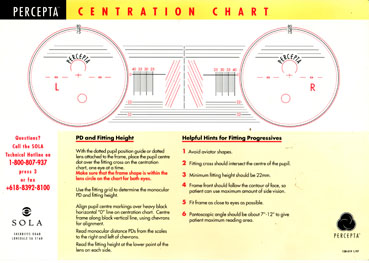 Collection of material about prescribing and fitting progressive power lenses
Category:
Memorabilia and ephemera
Sub-Category:
Advertising, trade and products
Time Period:
1940 to 1999
Description Of Item:
(1) Booklet: 'Hoyalux Multivision Design System. Handbook' 25 pages A4 size (undated) (2) A4 card: 'Hoya Varilux II Centration Chart' (undated) (3) A4 sheet: 'Varilux II Glazing procedure' (Undated( (4) A3 card, single forld to A4 card printed all 4 pages: ' Hoya Lens Australia Pty Ltd Job ordering procedure' (Undated). (5) 3-fold card, 2 colour printing both sides: 'SOLA Lenses for living life centration chart' (undated) (6) A4 card, glossy finish 3-colour printing both sides. 'Percepta Centration Chart' SOLA 1997 (7) Centration rule, white card 265 mm x 95 mm in clear plastic pocket, printed 2-colours both sides' SOLA GRADUATE' (8) Single fold leaflet white glossy paper, colour printed fron page. 'Important information: alteration of the stamped markings for PROGRESSIV R to simplify centering' Rodenstock Munich 1983?.
Historical Significance:
Progressive power lenses to correct presbyopia were introduced by Essel (later Essilor) in 1959 to the design of Bernard Maitenaz. Other ophthalmic lens manufacturers quickly followed
How Acquired:
Donated by Elizabeth Hatfield, member of the College
Date Acquired:
August 2012
Location:
Archive office. Pamphlet and ephemera filing cabinet. Drawer 5