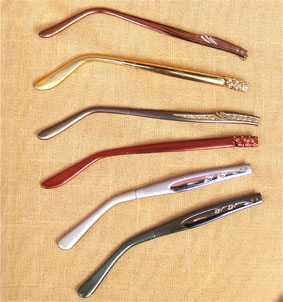 Spectacle frame sides for Martin Wells frames
Category:
Spectacles and lenses
Sub-Category:
Spectacle frame
Corporation:
MARTIN WELLS PTY LTD
Year Of Publication/Manufacture:
1970s
Time Period:
1940 to 1999
Publisher/Manufacturer:
Martin Wells Pty Ltd
Description Of Item:
23 different right side spectacle frame temples, all anodised aluminium in various colours and engravings for Martin Wells women's spectacle frames, models Rhapsody, Adina, Hyline, Seranade deluxe, Fifth Avernue, Serenity, Fantasia and Felicity
Historical Significance:
Martin Wells was an Australian spectacle frame manufacturer founded by business man Sidney Sinclair OBE AM (1915-1999), optometrist Eric Hurst and Dino Zigarelli, a spectacle frame expert. Martin Wells produced a range of spectacle frames in the 1950s and 1960s that were highly popular in Australia and ushered in a new era of fashion in spectacles in Australia. These frame parts were made in the 1970s a high point in Martin Wells fashion production.
How Acquired:
Donated by Martin Gertler, formerly of York Optical Melbourne
Location:
Archive office. East wall shelves unit 3. Drawer 7