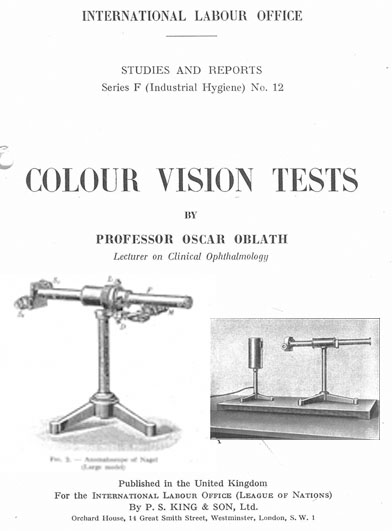 Colour vision tests, Studies and Reports Series F (Industrial Hygiene) No 12
Sub-Category:
Published report
Author:
OBLATH, Oscar (English translation by John Marshall)
Year Of Publication/Manufacture:
1929
Time Period:
1900 to 1939
Place Of Publication/Manufacture:
London UK
Publisher/Manufacturer:
International Labour Office (League of Nations)
Description Of Item:
Booklet, paper cover, 47 pages, 4 colour plates, 3 black and white illustrations. 8 references.
Historical Significance:
This publication of the International Labour Office came about on the proposal of the Fifth Scandinavian Ophthalmological Congress held in Stockholm in 1921. It is an early paper on the setting of uniform test procedures for colour vision in colour critical occupations such as the railways, navigation at sea and aviation. It has a chapter on the importance of the colour vision in such occupations and a chapter of colour vision tests. Figures 1 and 2 are fascinating pictures of two early models of the Nagel Anomaloscope (Both of which have been superimposed in the thumbnail picture). The author was lecturer in clinical ophthalmology.
How Acquired:
Donated by Barry Cole, honorary life member of the College
Date Acquired:
August 2012
Condition:
Fair: paper yellowed, two punch holes, spine worn, dog eared bottom right corner
Location:
Archive office. Pamphlet and ephemera filing cabinet. Drawer 5