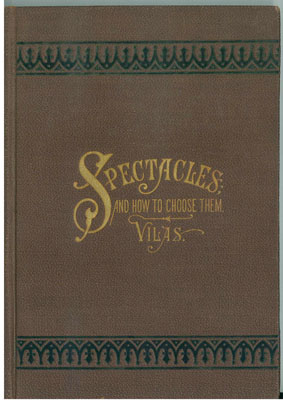 Spectacles and how to choose them
Sub-Category:
Significant book (Aitken collection)
Author:
VILAS Charles Harrison
Year Of Publication/Manufacture:
1883
Place Of Publication/Manufacture:
Chicago
Publisher/Manufacturer:
Duncan Bros
Description Of Item:
Original brown embossed cloth covers with decorated gilt lettering, 146 pages and 6 leaves of letter charts and 4 pages of advertisements for other books. 38 black and white illustrations. Inked name C A Paul on blank preliminary page.
Historical Significance:
Dr Vilas MA MD was a prominent Chicago ophthalmologist who also had a strong interest in otology and homeopathy. The first edition of this book was published in 1881. In the preface of this second edition the author states that 'this little volume is offered to the profession and scientific laity', presumably meaning oculists and opticians. However the book makes clear that spectacles should be prescribed by oculists. There are excellent illustrations of trial sets and spectacles as well near and distance vision charts. Dr. Vilas was appointed the first Professor of Ophthalmology and Otology at Hahnemann Medical College in Chicago, later becoming Dean of the Faculty and President of the College. Dr Vilas was secretary of the Homeopathic Congress of the Uniited States, which was founded in 1878.
How Acquired:
Donated by Michael Aitken, honorary archivist
Date Acquired:
August 2012
Location:
Nathan Library. Aitken collection