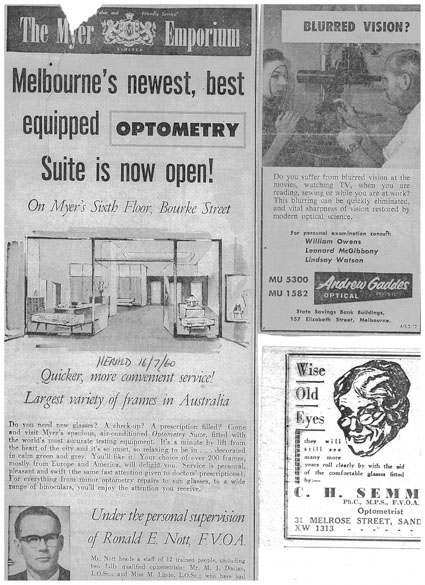 Newspaper clippings of advertisements by optometrist and related papers
Category:
Memorabilia and ephemera
Sub-Category:
Advertising, ophthalmic practitioners
Time Period:
1940 to 1999
Description Of Item:
Collection of newspaper clippings of advertisements placed by optometrists in the second half of the 20th C; an advertising card for Harold Partridge, optometrist of Mentone, Victoria; a newspaper report of the prosecution of a Toowoomba optometrist for breach of the advertising regulations under the Queensland Optometrits Act and a promotional letter signed by Melbourne optometrist Ted Vines to which is attached a letter of complaint from fellow optometrist Duncan Waite.
Historical Significance:
Throughout the greater part of the 20th C most optometrists were keen to ensure that their advertising was restrained and professional although the State Registration Acts varied in the legal restrictions placed on advertising by optometrists. Despite this wish to be 'professional' quite a number of optometrists adopted a more commercial posture.
How Acquired:
Donated by Dr David Cockburn, honorary life meber of the College
Date Acquired:
April 2012
Location:
Archive office. Pamphlet and ephemera filing cabinet. Drawer 5