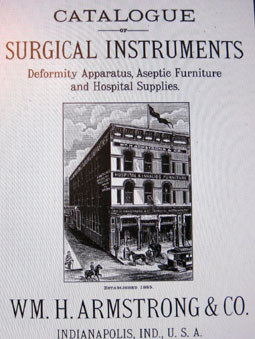 Collection of ophthalmic product catalogues
Sub-Category:
Product catalogue
Corporation:
Several (see details below)
Year Of Publication/Manufacture:
2004
Publisher/Manufacturer:
Destiny Publications
Description Of Item:
DVD in case containing images in pdf format of the contents of 6 ophthalmic product catalogues, viz (1) Wm H Armstrong Indianapolis Ind USA (1901) (2) Down Bros London UK (1892) (3) Charles Lentz and Sons Philadelphia USA (1911) (4) S Mawson and Sons London UK (1913) (5) The Surgical Manufacturing Company Ltd London UK (1928) (6) Geo Tiemann & Co New York USA (1876). Total of 209 pages. Copiously illustrated with black and white. It can be navigated by the side bar in text contents list or by page thumbnails and be searched by key word. The disc in labelled 'Eye Instruments. Baths/wash devices Spectacles Surgical/diagnostic apparatus & more. Collectors references Series. Destiny Publications c 2004 AllRights Reserved' with two images.
Historical Significance:
This is a useful source for an appreciation of the nature of ophthalmic instrumentation in the period 1876 to 1928 in two countries. It is also useful for the indentification of particular instruments. Noteworthy is the number of different designs of ophthalmoscope,most named after the designer, many not well known. The pdf has been copied to the Museum computer and back-up on 'Museum' on the ACO server.
How Acquired:
Purchased by Kett Museum
Location:
Archive office. Pamphlet and ephemera filing cabinet. Drawer 5