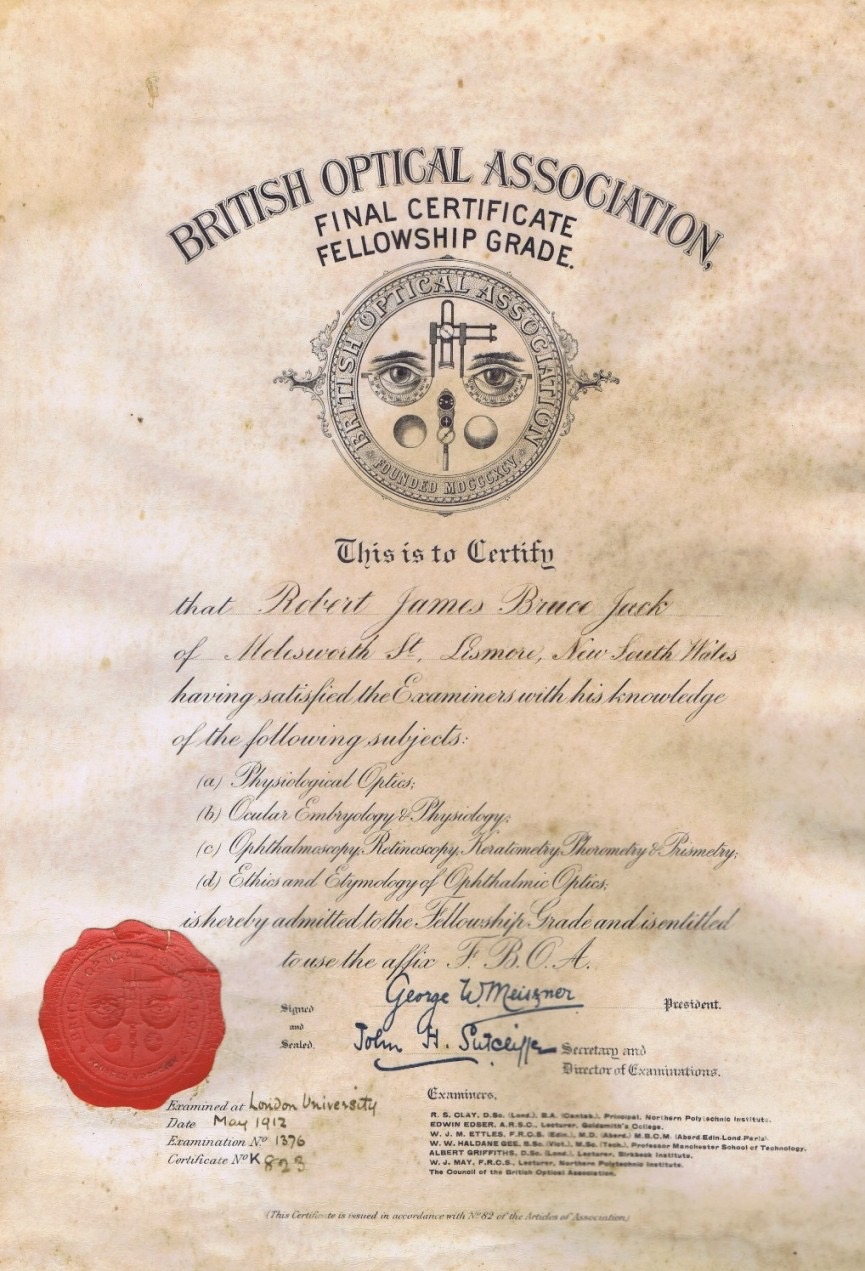 Fellowship certificate of the British Optical Association for R J B Jack
Sub-Category:
Certificate, diploma
Association:
British Optical Association
Year Of Publication/Manufacture:
1912
Time Period:
1900 to 1939
Place Of Publication/Manufacture:
London, UK
Description Of Item:
Fellowship certificate of the British Optical Association issued to Robert James Bruce Jack. Heavy paper with red seal attached. 'This is to certify that Robert James Bruce Jack of Molesworth Street, Lismore, New South Wales, having satisfied the Examiners with his knowledge of the following subjects: (a) Physiological Optics; (b) Ocular Embryology and Physiology; (c) Ophthalmoscopy, Retinoscopy, Keratometry, Phorometry & Prismetry; (d) Ethics and Etymology of Ophthalmic Optics; is hereby admitted to the Fellowship Grade and is entitled to use the affix FBOA.' Signed and sealed. Examined at London University, May 1912. Size 301mm x 440mm.
Historical Significance:
Robert James Bruce Jack FBOA (Hons) FSMC (1886 - 1976) was a prominent optometrist in New South Wales. He was born on 4th September 1886 in Surry Hills in Sydney. His family moved to Lismore in 1899. At 13 years of age he commenced a 5 year watchmaking apprenticeship with a Mr Wicks and attended night school. After completing his apprenticeship he moved to Brisbane where he worked for Swift & Grice, then Mackay & Co. He decided to change his career to optics as he had received optical mechanical experience at Mackay & Co. He undertook a correspondence course with the British Optical Institute of London. On July 1st 1911 he married Hilda Crofton and they departed for London on July 5th 1911. During the seven week voyage he studied in the ship's dining room to prepare for FSMC & DBOA exams which were to take place soon after arrival in London. He attended classes at the British Optical Institute under Dr Max Coque. In November 1911 he sat the Worshipful Company of Spectacle Makers examination and received his diploma at the Guild Hall, London, dated 12th January 1912. At that time he was also conferred with the Freedom of the City. He sat for the Dioptric Examination of The British Optical Association on November 29th & 30th 1911. After studying a little longer by correspomdence with the Institute, and working in Glasgow, in May 1912 he sat his final Fellowship exam at London University. On June 1st 1912 he sailed from Liverpool for Australia. On his return his father helped him establishthe business RJB Jack & Co as an Ophthalmic Optician in Lismore. He made regular visits to conduct examinations in surrounding townships borrowing his father's pony & sulky. This proved too slow so he progressed to a motorcycle, then a larger motoercycle with a sidecar and later a second-hand Model T Ford motor car. He later practised in Sydney and was extensively involved in training optometry students. He contributed to the development and registration of the profession of optometry through his involvement in the NSW Division of the Australian Optometrical Association, of which he was president from 1946 to 1947. He had many papers published in The Commonwealth Optometrist and the Australasian Journal of Optometry, and frequently presented to optometric meetings and conferences.
How Acquired:
Donated by Rev Dr Robert Johnson (grandson of RJB Jack)
Condition:
Good but discoloured and curled
Location:
Archive room. West wall. Unit 2 Drawer 4