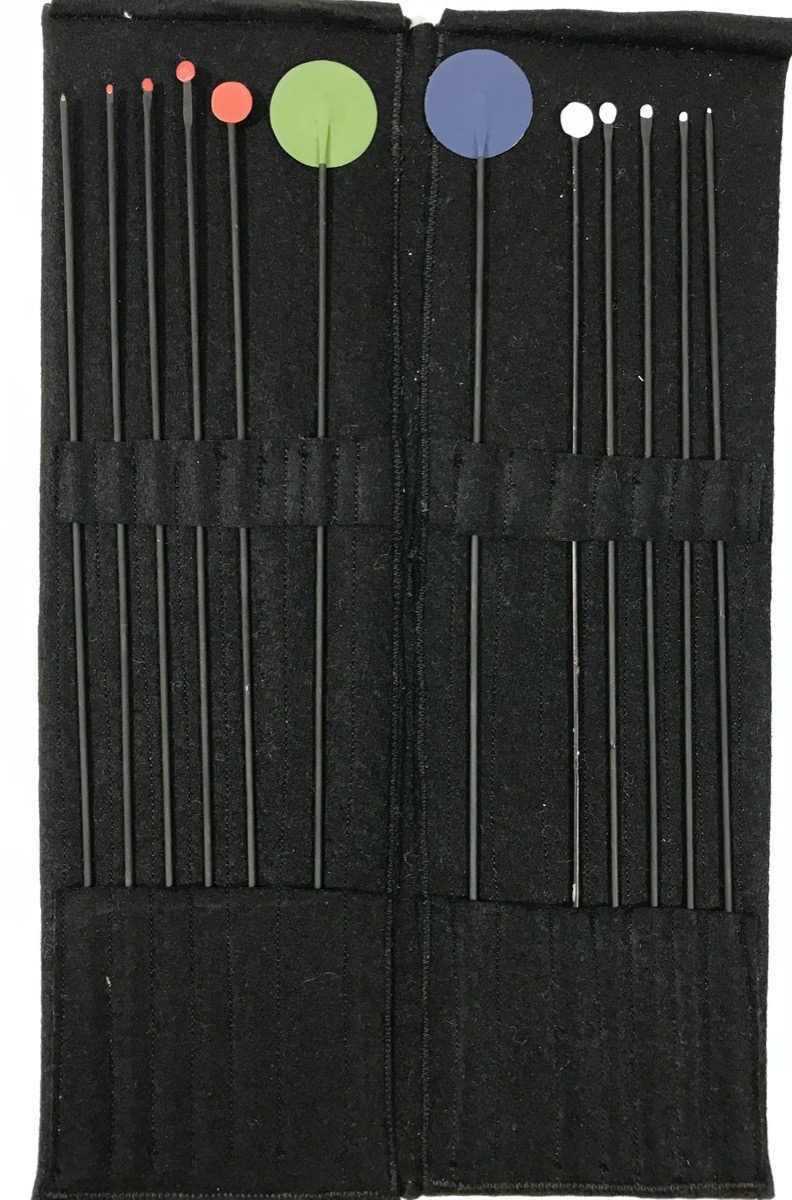 Traquair visual field targets in felt pouch
Sub-Category:
Perimeter, visual field analyser
Time Period:
1940 to 1999
Publisher/Manufacturer:
Possibly hand made
Description Of Item:
Black felt pouch with cloth ties containing 6 pairs of round targets, measuring 1, 2, 3, 5, 10 and 30 in diameter with long black handles of varying lengths between 27 and 29.5cm. Six are painted white on one side and blue on the reverse and 6 are red with green on the reverse. The pouch measures 33 x 10cm when folded. No markings to indicate manufacturer.These targets are used in front of a Bjerrum screen to locate and measure blind areas in visual fields (see Catalogue no. 3418 for information about the screen).
Historical Significance:
Harry Moss Traquair (1875-1954) was Scottish and is regarded as the father of clinical perimetry. His name is attached to some visual field concepts such as Traquair's hill of vision, Traquair's perimetric targets and Traquair's scotoma. He published a classic book on visual fields in 1927, of which there were 5 later editions, some re-issued by US publishers. The last edition was published posthumously in 1957, when it was titled 'Traquair's Clinical Perimetry' and co-authored by G I Scott. See Cat No 338 and 736
How Acquired:
Donated by Elizabeth Hatfield
Location:
Archive room. West wall. Unit 6 Overhead display