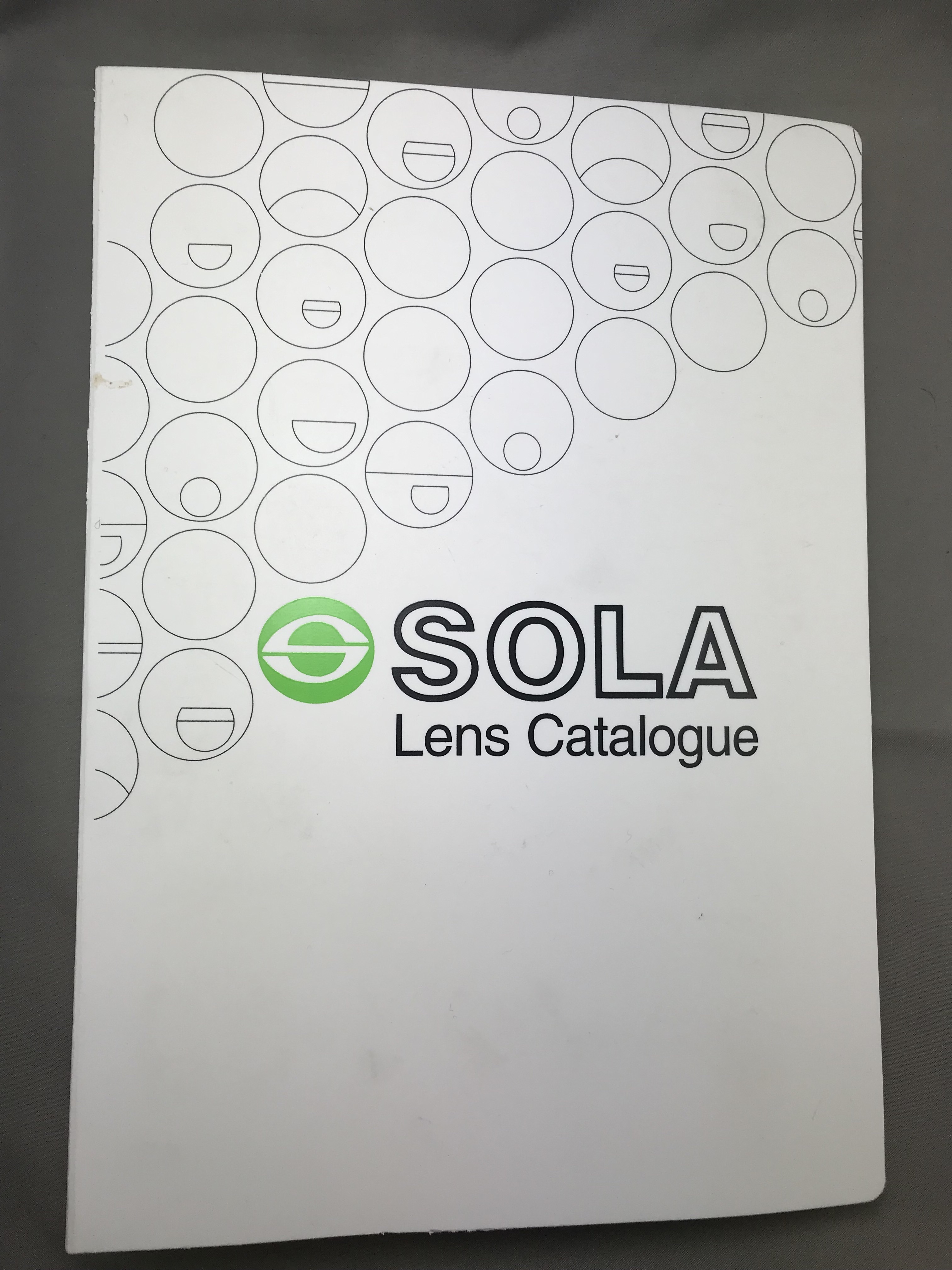 Sub-Category:
Ophthalmic product catalogue
Corporation:
SOLA Optical Australia
Year Of Publication/Manufacture:
c 1998
Time Period:
1940 to 1999
Place Of Publication/Manufacture:
South Australia
Publisher/Manufacturer:
SOLA Optical Australia
Description Of Item:
White plastic covered manual with 'SOLA Lens Catalogue' in black print and the SOLA logo in green on the front and back covers, and 'The advantages are clearly visible' on the back in green. The 3 ring binder contains information about all the company's lens products.There are 6 major sections tabbed 'Single Vision, Progressives, Bifocals, Trifocals, Specialty & Finished', and 18 minor sections tabbed 'Thinner & Lighter', 'Hard Resin' and 'Glass'. Includes 58 leaves with diagrams and details of each lens type (Abbe Value, Refractive Index, Specific Gravity, Base Curve Range, Prescription Range, Coatings and Features and Benefits). 300 mm x 212 mm x 50 mm,
Historical Significance:
SOLA (Scientific Optical Laboratories Australia) was founded in 1960. Its foundation was driven by the technical genius of Donald Schultz (See Watkins RD Profile of Donald Herbert Schultz Clin Exp Optom 2004; 87: 187-190) who had for some time been interested in the use of CR39 for the manufacture of ophthalmic lenses. SOLA became a highly successful international company for the production of CR39 lenses. CR-39, or allyl diglycol carbonate (ADC) was first used for spectacle lenses by Armorlite Lens Company in California in 1947.
How Acquired:
Donated by Elizabeth Hatfield
Date Acquired:
13/10/2019
Location:
Archive room. East wall. Books of historical note. Folios