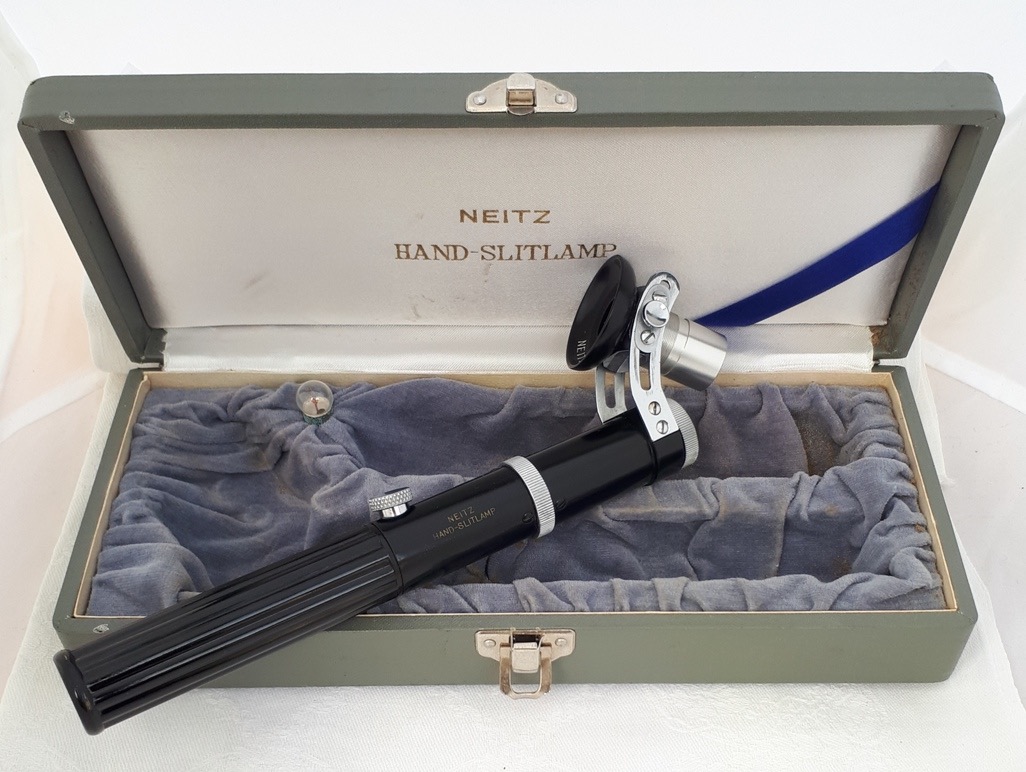 Sub-Category:
Slit lamp Biomicroscope
Corporation:
Neitz Instruments Co Ltd
Year Of Publication/Manufacture:
C 1980s
Time Period:
1940 to 1999
Place Of Publication/Manufacture:
Tokyo Japan
Publisher/Manufacturer:
Neitz Instruments Co Ltd
Description Of Item:
Black cylindrical handle, 177 mm long, 20 mm in diameter imprinted 'NEITZ HAND-SLITLAMP', No. 51871 and O<>S SLIT houses the optical system and light source of the slit lamp. A knurled ring 55 mm from one end operates the slit aperture and two chromed sector pieces hold the adjustable eye piece and allow adjustment of its angle. A chromed knurled knob 87 mm from the opposite end secures the light source. This end of the cylinder is fluted as a hand grip. A blue filter has been added to the optical system to aid examination of contact lenses. The slit lamp is housed with a spare globe in a grey velvet lined grey textured hinged case with a single central chromed clasp 237 mm x 114 mm x 42 mm the inside lid of which has a white sateen lining imprinted 'NEITZ HAND-SLITLAMP' in gold. The case is imprinted 'NEITZ-SP' and 'NEITZ INSTRUMENTS Co LTD, TOKYO JAPAN'. Folded instruction sheet tucks into blue ribbon inside lid.
Historical Significance:
Neitz Instruments Co Ltd started business in 1965 when it took over Naito Ophthalmic Optical Instrument Research Institute as a manufacturer of ophthalmic equipment. It was acquired by Menicon Co Ltd in 1997 and Nishizawa Electric Measuring Instruments Co., Ltd from Menicon Co Ltd in 2010. See Cat. 3916 for Power Source.This example of the Neitz Hand Slit-Lamp is marked for production number '51871'. Catalogue No 3915 example is marked '51870', the previous number.
How Acquired:
Donated by William Law
Date Acquired:
29.11.2021
Condition:
Instrument: Good, Case: Fair
Location:
Archive room. West wall. Unit 6 Drawer 3