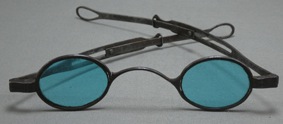 Oval Eye Georgian Sunglasses
Category:
Spectacles and lenses
Sub-Category:
Spectacles (with lenses)
Year Of Publication/Manufacture:
c 1800
Time Period:
18th C and earlier
Place Of Publication/Manufacture:
possibly England
Publisher/Manufacturer:
Unknown
Description Of Item:
Oval eye saddle bridge base metal frame with sliding temples ending in loop to take a ribbon. Fitted with plano turquoise glass lenses. Measures 125 x 25 mm. Eye size 30 mm, distance between lenses 33 mm.
How Acquired:
Donated by Graham Hill, Honorary Life Member ACO
Date Acquired:
20/05/2019
Condition:
Very good. Small crack opening at junction of bridge and R rim.
Location:
Archive Office. Spectacles cabinet Drawer 10