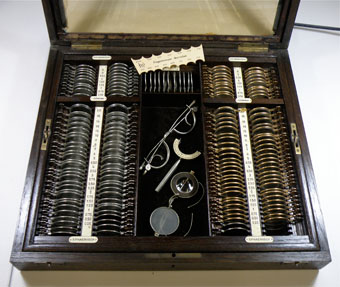 Trial lens set in case with glass hinged lid including three trial frames
Sub-Category:
Trial lens case
Year Of Publication/Manufacture:
Before 1938
Time Period:
1900 to 1939
Place Of Publication/Manufacture:
Germany
Description Of Item:
Trial lens set, wooden case 395 mm x 360 mm, with hinged glass lid, lift-out lens tray with recessed finger pulls to lift, timber partitions with purple velvet lining on the bottom of the tray. Engraved white bone or plastic labels to designate the lens types in each compartment. Labels are in German. Central compartment contains three trial frames (1) fixed PD half eye trial frame with spring clips to hold trial lenses securely with only one lens slot for each eye, (2) half eye trial frame, adjustable PD (?) with slots for each eye for spherical lenses and cylindrical lenses and semi axis scales (one detached), and (3) trial cylindrical lens holder, for a single lens, with semi degree axis scale and 60 mm long handle. Also in the centre compartment is a plastic rule marked 'Fingerklemmer-Normalien' with numbered semi-circular cut outs on the top and botton edges, each identified with a three digit number.
Historical Significance:
The previous owner, Isaac Cynamon, was a jeweller in Berlin who migrated to Australia in 1938. He was a Jew. He worked as a jeweller in the Myer Emporium on his arrival in Australia and later in his own business. He died in 1973. The fact that the trial case bears labels in German suggests he brought the item with him when emigrating to Australia. Its good condition suggests he did not practice optometry in Australia, which at the time of his arrival already had registration of optometrists that did not recognise German qualifications.
How Acquired:
Donated by Grand daughter of Isaac Cynamon
Condition:
Very good except timber edge from the back of glass lid is missing
Location:
Archive office. East wall shelves unit 2