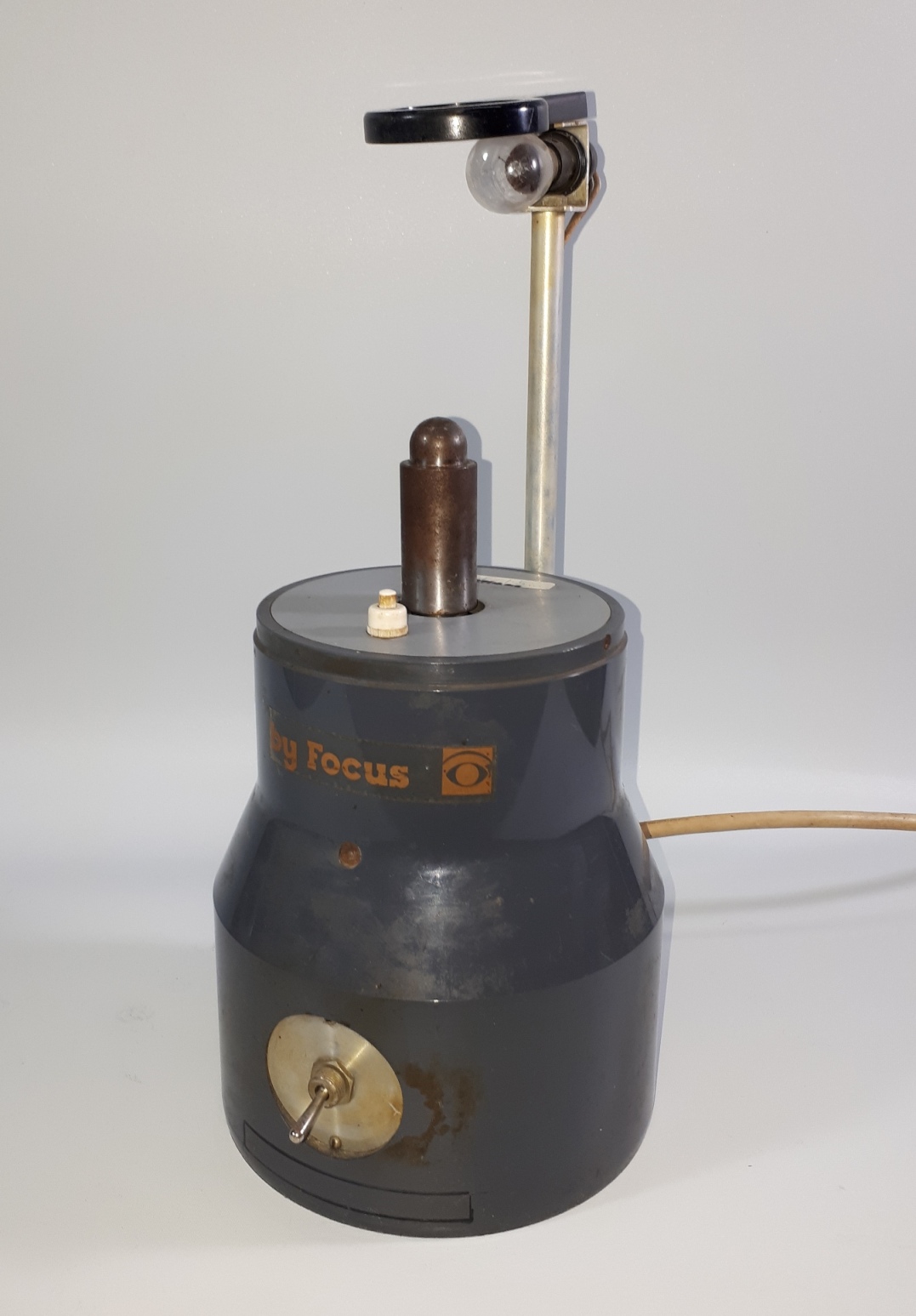 Sub-Category:
Contact lens equipment
Year Of Publication/Manufacture:
c 1970
Time Period:
1940 to 1999
Place Of Publication/Manufacture:
United Kingdom
Publisher/Manufacturer:
Focus
Description Of Item:
Electric motor with vertical shaft mounted in a grey plastic cylindrical housing 205 x 170 x 205 mm with a switch at front and illuminated magnifier on a metal bracket mounted at the rear. A decal imprinted 'by Focus' in gold is adhered to the front of the housing. The motor shaft protrudes through a flat plate on the top of the housing and is encased in a spring loaded cylinder with a hemispherical top which is engraved with 9 annular markings at 1 mm separations around a central hole. When depressed the cylinder exposes a burr of 0.5 mm diameter. The plate has a press button switch which operates the illumination for the magnifier as well as a label with 'PBE 1.5in' hand written in blue.
Historical Significance:
Fenestrations in scleral and corneal rigid contact lenses were initially made by drilling using a hand-held pin-vice. Machines of this type simplified the process and allowed a more repeatable method. Laser technology eventually replaced the mechanical process.Some contact lens blanks, like the Boston BE ortho K lenses, were supplied fenestrated by the manufacturer.This machine, not common in use in Australian laboratories, was used for many years by the donor at Smith & Nephew, BJ Optics, Gelflex Melbourne and Capricornia Contact Lens laboratories. The drill bit could be exchanged to make fenestrations of different diameters. Final polishing of the fenestration was done using a plastic knitting needle (Patons No. 9).
How Acquired:
Donated by Bruce Workman
Condition:
Good, working order
Location:
Archive room. East wall Unit 4 Cupboard