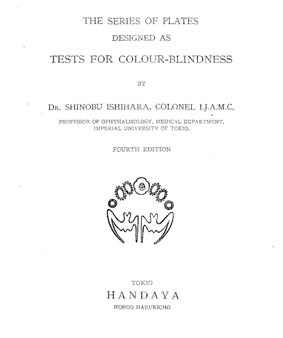 Tests for colour-blindness
Sub-Category:
Colour Vision Test
Designer/inventor:
ISHIHARA, Shinobu
Year Of Publication/Manufacture:
1920s
Time Period:
1900 to 1939
Place Of Publication/Manufacture:
Tokyo
Publisher/Manufacturer:
Handaya
Description Of Item:
Original green cloth cover, 200 x 150 mm, with title in gilt, 6 pages of text (in English), 16 standard Ishihara colour test plates. 10 page instruction booklet in Japanese in back pocket, label in Japanese on inside back cover. Pencilled name (illegible) on half title page. Book sellers label 'Alan Grant Medical Agent 84 Collins Street Melbourne' inside front cover.
Historical Significance:
This is an early edition of the famous Ishihara Test. It was first published with Ababic numerals in 1917 and achieved wide-spread recognition in 1929 when it was adopted as an official international test of colour vision by the 13th International Congress of Ophthalmology. Shinobu Ishihara (1879 to 1963) graduated in medicine in 1905 on a military scholarship and immediately joined the army as a doctor, serving mainly as a surgeon. He later changed to ophthalmology. In 1908 he returned to Tokyo University where he dedicated himself to ophthalmic research. In 1910 he became an instructor at the Army Medical College. There, in addition to seeing patients, he conducted research on 'battlefield ophthalmology' and how to select superior soldiers. In 1912 he went to Germany to further his studies in ophthalmology and in 1915, after the outbreak of war, he returned to Tokyo. There he worked as an instructor in the Military Medical School where he was asked to devise a test to screen military recruits for abnormalities of colour vision. His assistant was a colour blind physician who helped him test the plates. The first charts were hand painted by Ishihara in watercolours using hiragana symbols - the most 'Japanese' of the three Japanese scripts. Previous pseudoisochromatic plates existed (eg Stillings) but Ishihara's plates gave more reliable results. In 1917 he made a set using Arabic numerals called the 'International Edition' but few copies were sold. In 1922 Ishihara became a Professor at Tokyo University. In 1929 at the 13th International Congress of Ophthalmology in Holland the International Edition was recommended for testing naval personnel and air force pilots.
How Acquired:
Donated by Terry Coyle, member of the College
Condition:
Distressed spine otherwise very good
Location:
Nathan Library. Aitken collection