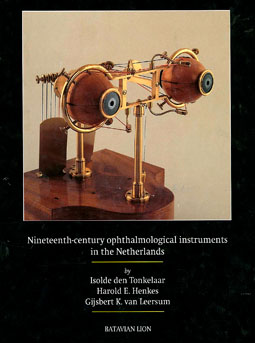 Eye and instruments. Nineteenth-century ophthalmological instruments in the Netherlands
Sub-Category:
Hewett collection
Author:
den TONKELAAR Isole, HENKES Harold E, van LEERSUM Gijsbert K
Year Of Publication/Manufacture:
1996
Time Period:
1940 to 1999
Place Of Publication/Manufacture:
Amsterdam
Publisher/Manufacturer:
Batavian Lion
Description Of Item:
Original dust cover illustrated with an ophthalmotrope, black cloth boards, 275 x 220 mm, 301 pages very profusely illustrated with high quality images mostly in colour. Black and white illustrations of Franciscus Cornelius Donders and Herman Snellen Snr on pages 12 and 13.
Historical Significance:
This book is essentially a catalogue of 19th C ophthalmic instruments formerly held by the Netherlands Hospital for Eye- Patients in Utrecht. The hospital was founded in 1858 by F C Donders (1818-1889). Donders was its Director until Herman Snellen (1834-1908) succeeeded him in 1862 after being the hospital's manager for many years. These were the instruments designed, modified or bought by Donders and Snellen. Many of them are prototypes of instruments that became familiar in optometric and ophthalmological practice over the next century. Some are scientific instruments that Donders and Snellen used for their research. Many were made or modified by Donders' assistant Kagenaar for 30 years. While the commonplace instruments of 20th C ophthalmic practice were made enamelled cast iron most of these protoptype instruments are beautifully crafted in brass. Donders and Snellen, both Dutch, along with Herman von Helmholtz (1821-1894) in Germany are regarded as the founders of modern optometry and ophthalmology. The instruments are grouped in 19 chapters among them instruments for external eye examination, ophthalmoscopes, measurement of visual acuity, refraction and testing of colour vision. The hospital was independent but worked closely with Utrecht University and Donders and Snellen were professors in the University and the hospital trained ophthalmologists. The hospital became part of the University in 1958 and the collection is now held in a separate annex in the University museum. The University hosts the F C Donders Institute to continue the remarkable 150 years tradition of ophthalmic teaching and research. The book is a joy to browse and also a useful source for the identification of early ophthalmic instruments.
How Acquired:
Donated by Michael Aitken, honorary archivist
Condition:
Dust wrapper marked, otherwise very good
Location:
Nathan Library. Hewett collection