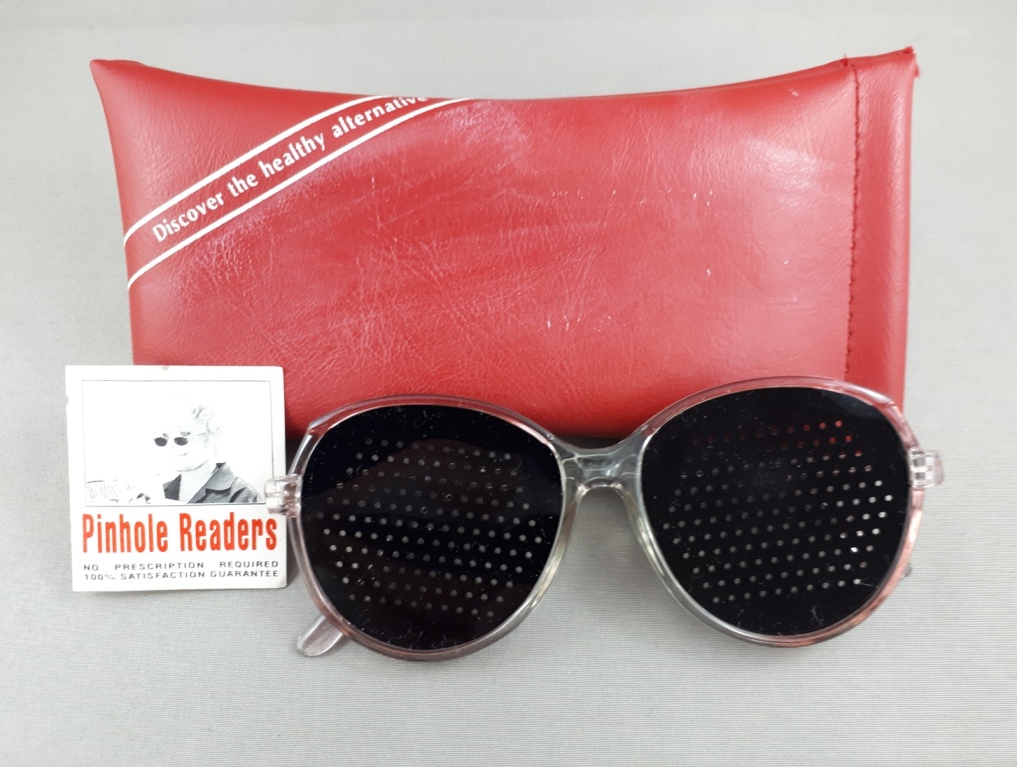 Category:
Spectacles and lenses
Sub-Category:
Spectacles, novelty
Year Of Publication/Manufacture:
1970s
Time Period:
1940 to 1999
Description Of Item:
Pinhole readers in shell frame with red vinyl snap top case and folded label. Ladies frame of clear and pink plastic labelled on one temple 'PINHOLE READERS' and on other 'PRESBE TM'. Flat plastic lens inserts backed by black card with an array of pinholes. Case imprinted in white: 'Discover the healthy alternative'. Small retail tag card with photograph of a woman wearing pinhole readers reading UK Woman's Weekly. Front of tag reads in red: 'Pinhole Readers' and in smaller black print: 'NO PRESCRIPTION REQUIRED/ 100% SATISFACTION GUARANTEE'. Readers: 136mm W x 54mm H x 30mm D. Case: 170 x 88 x 10mm. Label, unfolded: 87 x 47mm.
Historical Significance:
Ref: Charman, W N: Pinholes and presbyopia: solution or sideshow? Ophthalmic & Physiological Optics 39 (2019) 1-10.
How Acquired:
Donated by Pamela Sutton
Date Acquired:
January 2020
Location:
Archive Office. Spectacles cabinet Drawer 2