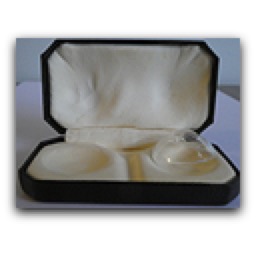 Category:
Spectacles and lenses
Sub-Category:
Contact lenses and accessories
Time Period:
1940 to 1999
Place Of Publication/Manufacture:
Melbourne, Australia ?
Publisher/Manufacturer:
Ian Bailey
Description Of Item:
Black vinyl covered snap case 78 mm x 42 mm x 19 mm with chamfered corners and cream lining containing a single left scleral contact lens of diameter 25 mm and with a single limbal fenestration and two dots on the edge. Lens power +6.25 D
Historical Significance:
Ian Bailey is an Australian optometrist who qualified in optometry at the Australian College of Optometry and the University of Melbourne in 1962. He pursued a teaching and research career at the Australian College of Optometry, the National Vision Research Institute of Australia and the University of California, Berkeley. This lens was most likely made by him during his time at the ACO.
How Acquired:
Donated by Ian Bailey
Location:
Archive room. West wall. Unit 6 Drawer 2