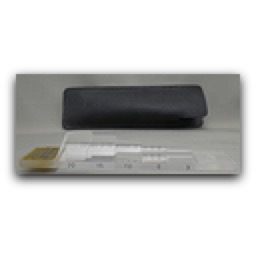 Gulden B-5 Prism Bar in case
Sub-Category:
Tests of binocular vision
Designer/inventor:
Raymond O Gulden
Time Period:
1940 to 1999
Place Of Publication/Manufacture:
Elkins Park, Philadelphia, Pennsylvania , USA
Publisher/Manufacturer:
R. O. Gulden Co.
Description Of Item:
Prism bar 130 mm x 30 mm x 16 mm imprinted on one side with the numerals 3, 5, 10, 15, and 20 representing prism dioptre values and on the other side with B-5 MFG BY R. O. GULDEN 17 PHILA. PA PAT. NO. 2.229.410. Adhered to a section of the face is a gold label with cleaning and care instructions printed in blue. The bar is contained in a black plastic sleeve case.
Historical Significance:
Gulden Ophthalmics, formerly R.O. Gulden Company, was founded in 1938 and has remained a family run business. R.O. Gulden's first product, the diagnostic Prism Bar, was jointly developed and patented with Dr. Conrad Berens of New York, along with many other Gulden products. Today, the business is operated by the grandson of Raymond Gulden. The details of the prism bar are recorded in the patent 2,229,410 applied for on 13-12-1938 and registered on 21-1-1941 as:OPTICAL APPARATUS An optical exercising apparatus comprising an integral bar of transparent material having a manually graspable handle portion at one end thereof, and a successive series of prismatic portions of successively varying power extending therefrom, with their basal portions being disposed along an edge of said bar, and with the prism faces on one side of said bar being co-planar.
How Acquired:
Donated by Margaret Banks
Date Acquired:
25/10/2019
Location:
Archive room. West wall. Unit 5 Drawer 2