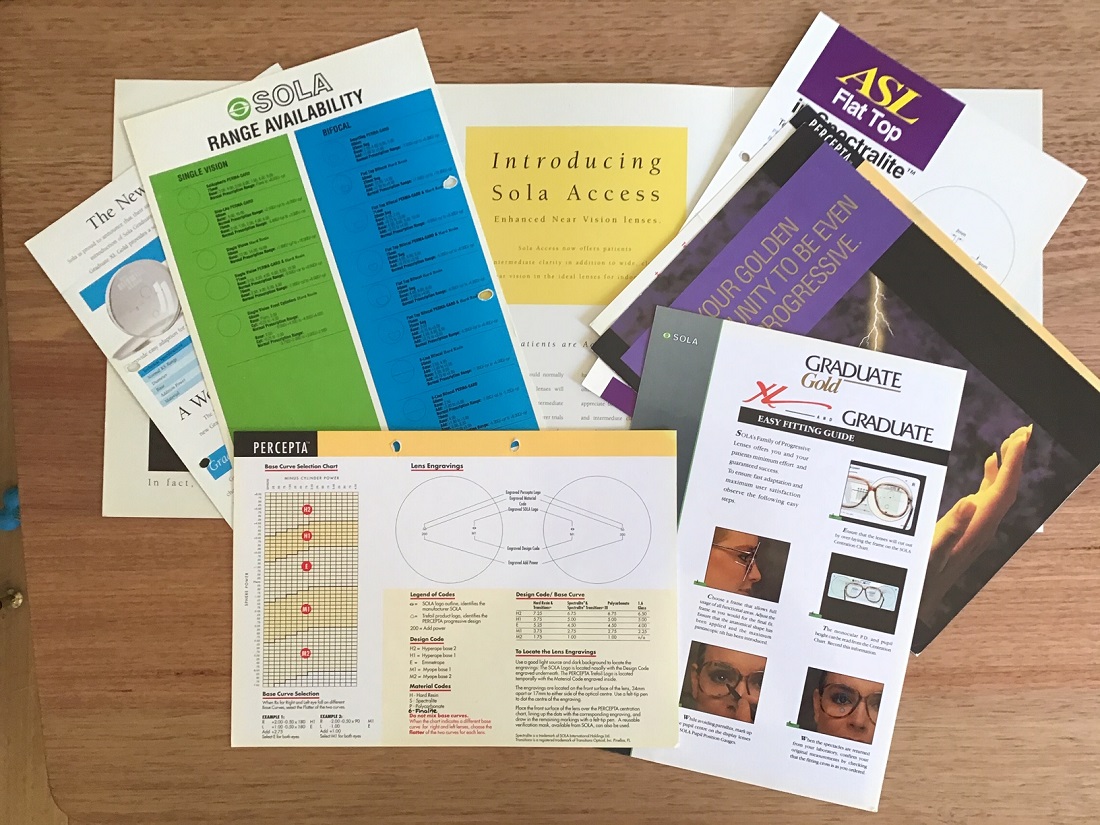 Folder of Sola Product Information Brochures
Sub-Category:
Ophthalmic product manual/instructions
Corporation:
Sola International Inc/ Sola International Holdings Ltd
Year Of Publication/Manufacture:
1994-1998
Time Period:
1940 to 1999
Place Of Publication/Manufacture:
South Australia
Publisher/Manufacturer:
Sola International
Description Of Item:
Red plastic covered A4 2 ring binder, 315 mm x 260 mm x 38 mm containing twelve product brochures or information sheets published by Sola International for a number of lens products. Products are: Microlite 1.67 (3/98), Percepta Progressive (01/97), Graduate, Percepta Centration and Lens Information Chart (8/98), ASL Flat Top Spectralite (8/94), Access (11/95), Graduate Gold, Percepta Centration and Lens Information Chart (1/97), Graduate and Graduate Gold Fitting Guide (8/96), Graduate and Graduate XL Centration Chart (8/95), Lens Range Availability Chart (Single Vision, Bifocal and Multifocal), Ultra-Tough Multi-Coat (UTMC) Questions and Answers (2/96).
Historical Significance:
SOLA (Scientific Optical Laboratories Australia) was founded in 1960. Its foundation was driven by the technical genius of Donald Schultz (See Watkins RD Profile of Donald Herbert Schultz Clin Exp Optom 2004; 87: 187-190) who had for some time been interested in the use of CR39 for the manufacture of ophthalmic lenses. SOLA became a highly successful international company for the production of CR39 lenses. CR-39, or allyl diglycol carbonate (ADC) was first used for spectacle lenses by Armorlite Lens Company in California in 1947.
How Acquired:
Donated by ACO Optical Dispensing Laboratory via David Leeming
Condition:
Fair. Plastic cover torn on edges
Location:
Archive room. East wall. Books of historical note. Folios