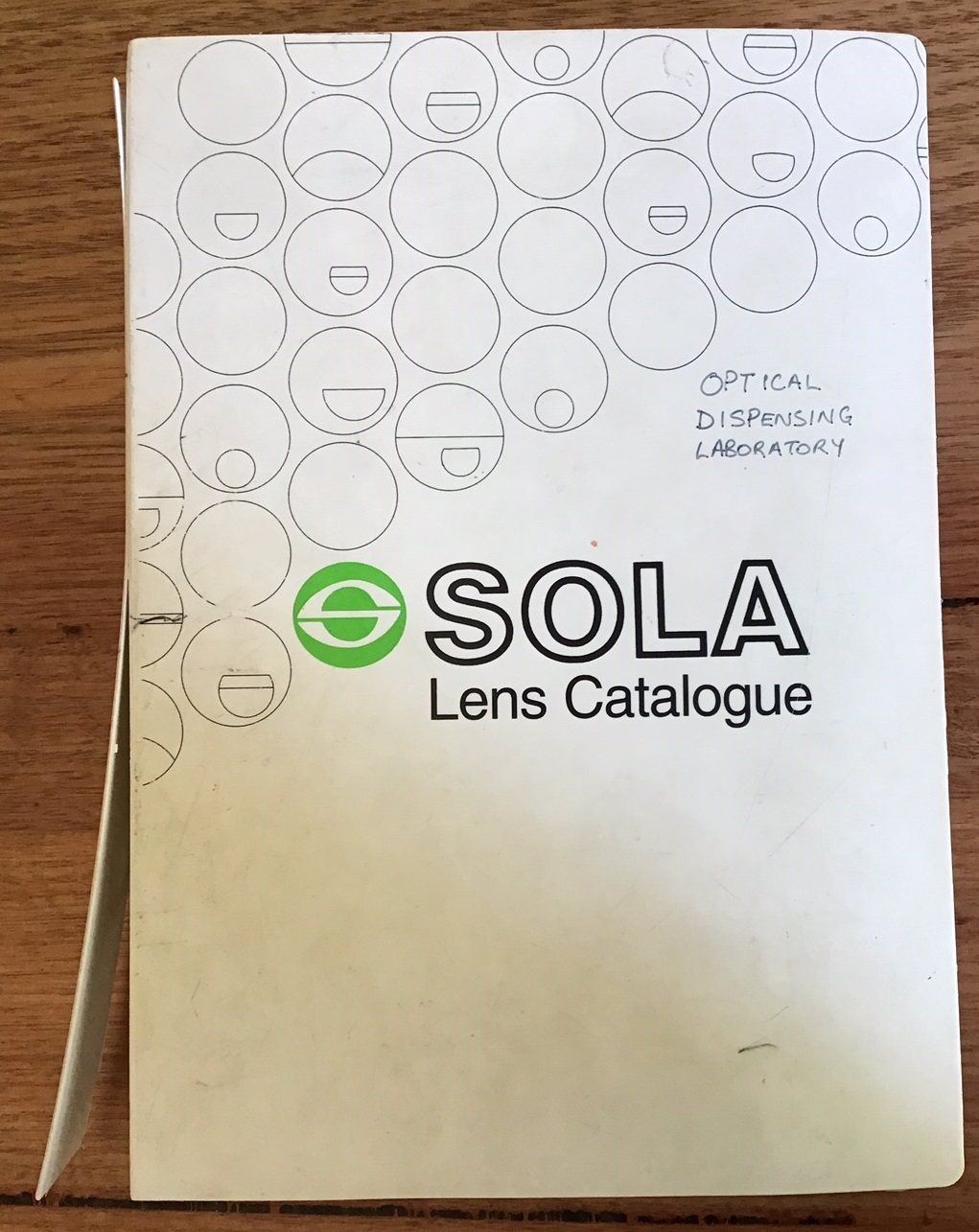 Sub-Category:
Ophthalmic product catalogue
Corporation:
Sola Optical Australia
Year Of Publication/Manufacture:
c 1998
Time Period:
1940 to 1999
Place Of Publication/Manufacture:
South Australia
Publisher/Manufacturer:
Sola Optical Australia
Description Of Item:
White plastic 3 ring binder 300 mm x 212 mm x 50 mm, with line drawings of lens designs and the words 'SOLA Lens Catalogue' printed and 'Optical Dispensing Laboratory' hand written on the front cover and line drawings of lens designs and the words 'SOLA The advantage is clearly visible' on the back cover. Both covers have a Sola logo in green printed on them. The folder contains 6 major section dividers individually tabbed 'Single Vision, Progressives, Bifocals, Trifocals, Specialty and Finished', and 18 minor section dividers variously tabbed 'Thinner & Lighter', 'Hard Resin' and 'Glass' and 58 light card leaves printed on one face with a diagram and details of each available lens type including Abbe Value, Refractive Index, Specific Gravity, Base Curve Range, Prescription Range, Coatings and Features and Benefits.
Historical Significance:
SOLA (Scientific Optical Laboratories Australia) was founded in 1960. Its foundation was driven by the technical genius of Donald Schultz (See Watkins RD Profile of Donald Herbert Schultz Clin Exp Optom 2004; 87: 187-190) who had for some time been interested in the use of CR39 for the manufacture of ophthalmic lenses. SOLA became a highly successful international company for the production of CR39 lenses. CR-39, or allyl diglycol carbonate (ADC) was first used for spectacle lenses by Armorlite Lens Company in California in 1947.
How Acquired:
Donated by ACO Optical Dispensing Laboratory via David Leeming
Condition:
Fair. Covers partly detached from spine, leaves good, a few have written notes added.