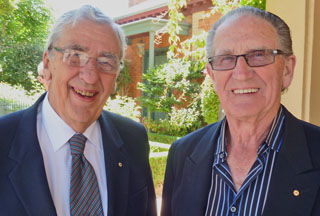 Photographs of people involved in the publication of Clinical and Experimental Optometry journal
Sub-Category:
Photograph People and events
Photographer:
Rowena Carlin (OAA staff member)
Year Of Publication/Manufacture:
2012
Place Of Publication/Manufacture:
Melbourne
Description Of Item:
Two digital colour photographs (1) 1260 x 945 pixels. Staff and editors of Clinical and Experimental Optometry journal at their annual end of year luncheon, left to right: Nicholas Walker, journal administrator; Barry Cole AO, chairman of the journal's editorial board; Genevieve Quilty, CEO of the OAA and member of the CXO Editorial Board and Executive; Sandra Shaw, OAA Publications Manager and Journal Production Editor; David Cockburn OAM, contributor of the journal's Mini-abstracts; Barry Collin AM, Editor in Chief; and Ian Gutteridge, Associate Editor, (2) 900 x 694 pixels. Barry Cole, Chairman of CXO Editorial Board and Barry Collin Editor in Chief
Historical Significance:
Clinical and Experimental Optometry was first published in 1919 under the title of The Commonwealth Optometrist. It was published by the NSW Institute of Optometrists and was adopted in Deecember 1918 as the official journal of the the then newly formed Australian Optometrical Association. It changed its name to the Australasian Journal of Optometry in 1929, the Australian Journal of Optometry in 1959 and to Clinical and Experimental Optometry in 1986. Professor Barry Collin became its editor in 1995. Barry Cole became Chairman of the CXO Editorial Board in 2000 and oversaw a rejunvenation of the journal, which at the time was little known outside Australia and was struggling to secure enough papers to fill its pages. Over the decade from 2000 the journal became abstracted by PubMed, took on Wiley-Blackwell as its publisher, was recognised by ISI and secured a respectable impact factor, grew in size and began to attract many more papers than it could publish, even within its larger size. Sandra Shaw has been Production Editor of CXO for over 25 years and ensures its high production values. David Cockburn has been contributing his 'Mini-Abstracts' to each issue of the Journal for over a decade.
How Acquired:
Donated by Rowena Carlin
Location:
Archive computer iPhoto