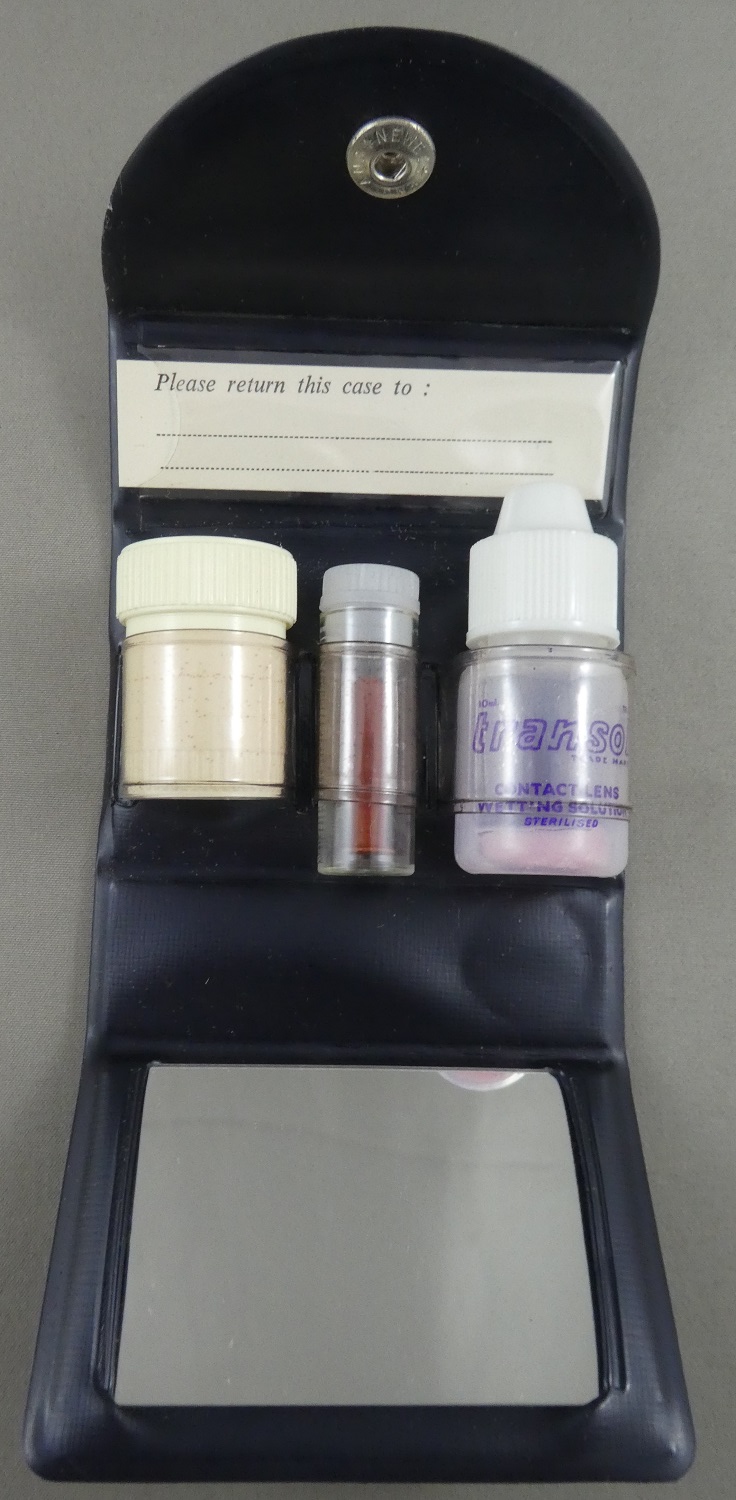 Contact Lens 'Comfort Case' in box
Category:
Spectacles and lenses
Sub-Category:
Contact lenses and accessories
Corporation:
G. Nissel and Co.
Year Of Publication/Manufacture:
1960s
Time Period:
1940 to 1999
Place Of Publication/Manufacture:
Hemel Hempstead, England
Publisher/Manufacturer:
G. Nissel and Co.
Description Of Item:
White cardboard box 85 mm x 62 mm x 35 mm with COMFORT CASE imprinted diagonally in black on one 85 x 62 and one 85 x 35 face containing a black vinyl folding contact lens case 82 mm x 60 mm x 31 mm holding a mirror, a label imprinted 'Please return this case to: ', a 10 ml bottle of Transol contact lens wetting solution, a clear plastic container holding a rubber suction holder, and a cream plastic case for rigid contact lenses embossed 'NISSEL MADE IN ENGLAND' on the base. Unfolded case is 211 mm x 82 mm x 27 mm. Temporary storage Box A
Historical Significance:
George Nissel (1913-1982), was born in Transylvania and studied engineering in Czechoslovakia. He first became aware of contact lenses because of his sister's connection with Dallos and first saw Istvan Rakos, a dental technician, making glass scleral lenses for Dallos in 1934. He moved to Britain in 1937. He started G. Nissel and Co. in London (Siddons Lane and Mornington Terrace) in July 1946, with George Grimes, who had previously serviced the machines that Nissel used during his work, originally making glass sclerals for Dallos and other adventurous practitioners. He began manufacturing sclerals from PMMA as soon as the material became available later that year, producing lenses mainly for the UK but with some for export to Sweden.Using his engineering background, Nissel produced in 1947 the first commercial lathes and polishing machines specifically designed for contact lens manufacture. In 1958 he moved the laboratory making corneal lenses to Hemel Hempstead, closing the London office in 1972. Nissel was one of the first laboratories to recognise and produce aspheric corneal lenses. In 2000 Nissel Ltd was acquired by David Cantor, and is now named Cantor and Nissel Ltd, based in Brackley, Northants.Transol contact wetting solution was made by Smith and Nephew Pharmaceuticals Ltd. Welwyn Garden City.
How Acquired:
Donated by Ian Bailey
Location:
Archive Room. East wall Unit 5 Cupboard