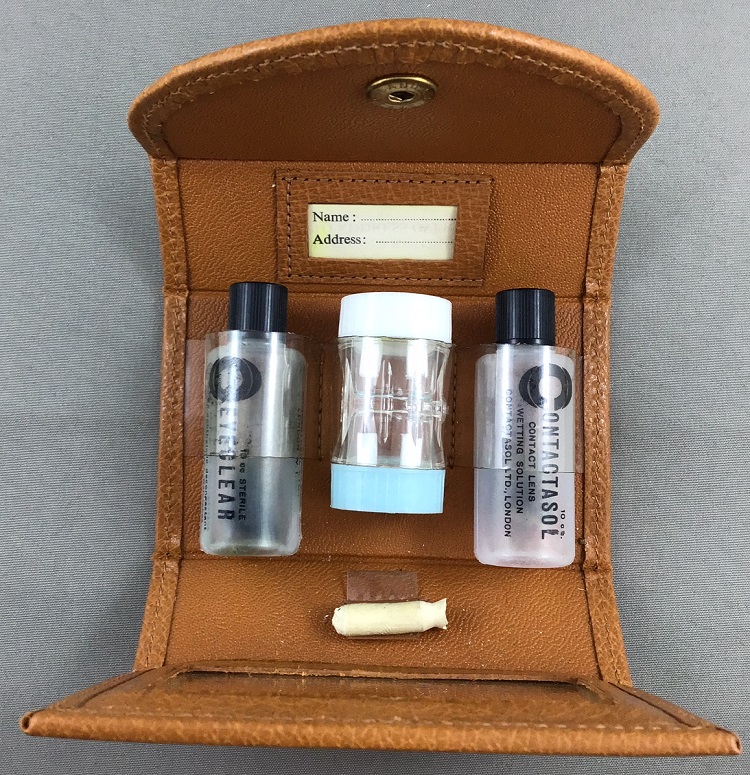 Vinyl Folding Contact Lens Case with Solutions, Lens Case and Suction Holder
Category:
Spectacles and lenses
Sub-Category:
Contact lenses and accessories
Corporation:
Contactasol Ltd
Year Of Publication/Manufacture:
1960s
Time Period:
1940 to 1999
Place Of Publication/Manufacture:
United Kingdom
Publisher/Manufacturer:
Contactasol Ltd
Description Of Item:
Textured brown vinyl folding contact lens case containing two clear plastic bottles in clear plastic sleeves, each 20 mm diameter 52 mm high with black screw caps, one imprinted EYECLEAR 10 cc An ophthalmic decongestant and lubricant. Refreshes. CONTACTASOL LONDON W.1 has dark blue residue loose inside, the other imprinted CONTACTASOL 10 cc CONTACT LENS WETTING SOLUTION CONTACTASOL LTD LONDON A (illegible) antiseptic solution specially formulated for Contact Lenses CONTENTS Benzalkonium chloride 0.004% Chlorhexidine 0.006% has a white residue loose inside. Contact lens case in a plastic sleeve. A double-ended cylinder of transparent plastic with light blue transparent plastic screw-on lid marked L and AQUACELL PAT. PEND. and white plastic screw-on lid marked R and AQUACELL PAT. PEND. Each lid has claws to retain a corneal contact lens. A white rubber suction holder in a plastic sleeve, mirror and a double sided label imprinted Name:.... Address.....on one face and 'WITH CARE IF FOUND RETURN TO ADDRESS OVER' within a stitched holder. Press stud fastened. Temporary storage Box A
Historical Significance:
Folding wallet type contact lens cases were ideal for presentation of contact lenses to patients. A US patent SN331647 for the Aquacell case was granted to Plastics in Optics Inc. Carolina, Puerto Rico in July 2 1969. It appears to have been applied for on Feb. 24 1961. Contactasol manufactured contact lens solutions in the UK and was acquired by Coopervision in 1985, Pilkington Barnes-Hind 1989, Wesley-Jessen 1996, and CibaVision 2000.
How Acquired:
Donated by Ian Bailey
Date Acquired:
14/10/2019
Location:
Archive Room. East wall Unit 5 Cupboard