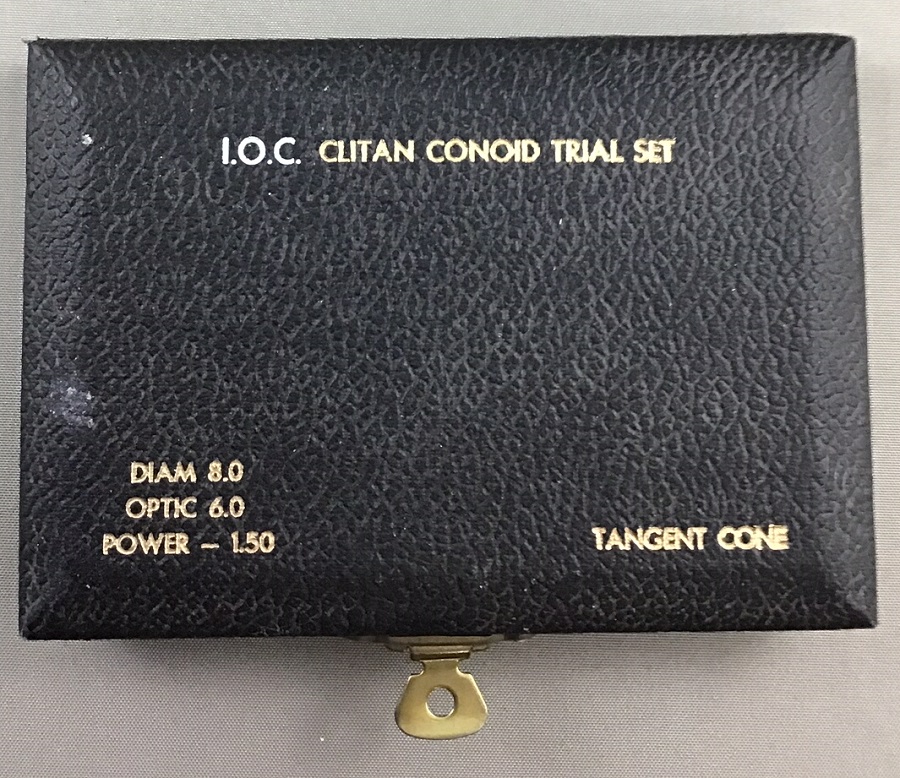 I.O.C. Clitan Conoid Trial Set
Category:
Spectacles and lenses
Sub-Category:
Contact lenses and accessories
Corporation:
International Optical Corporation
Year Of Publication/Manufacture:
1960s
Time Period:
1940 to 1999
Publisher/Manufacturer:
International Optical Corporation
Description Of Item:
Black textured hinged case with brass clasp containing14 clear trial PMMA lenses in individual wells marked with lens BCOR 6.9 to 8.2 in 0.1 mm steps. Each lens has the BCOR engraved on the edge. The top face of the case is imprinted in gold 'CLITAN CONOID TRIAL SET' 'DIAM 8.0' 'OPTIC 6.0' 'POWER -1.50' 'TANGENT CONE' The letters I.O.C. preceding CLITAN are printed in white in a different font. Temporary storage Box A
Historical Significance:
Penrhyn Thomas (1918-2010) was a Sydney optometrist, who qualified in optometry at the Sydney Technical College in 1939 and was one of the pioneers of contact lens practice in Australia. He designed, produced and marketed his own lens designs and taught many optometrists how to fit contact lenses in the 1960s and 1970s. He introduced the Conoid lens in 1967 which consists of a steep central optic with tangential peripheral curve. For more information on Penhryn Thomas see his obituary published in Clin Exp Optom 2011 and also on this web site under the tab 'People who made history'. Refer Cat Nos 558 & 581 'Conoid Contact Lenses' by Penrhyn Thomas, 1967. See also Cat Nos 1301 and 1535 for other sets the same and Cat No 1910 for a set with different parameters.
How Acquired:
Donated by Ian Bailey
Date Acquired:
14/10/2019
Location:
Archive Room. East wall Unit 5 Cupboard