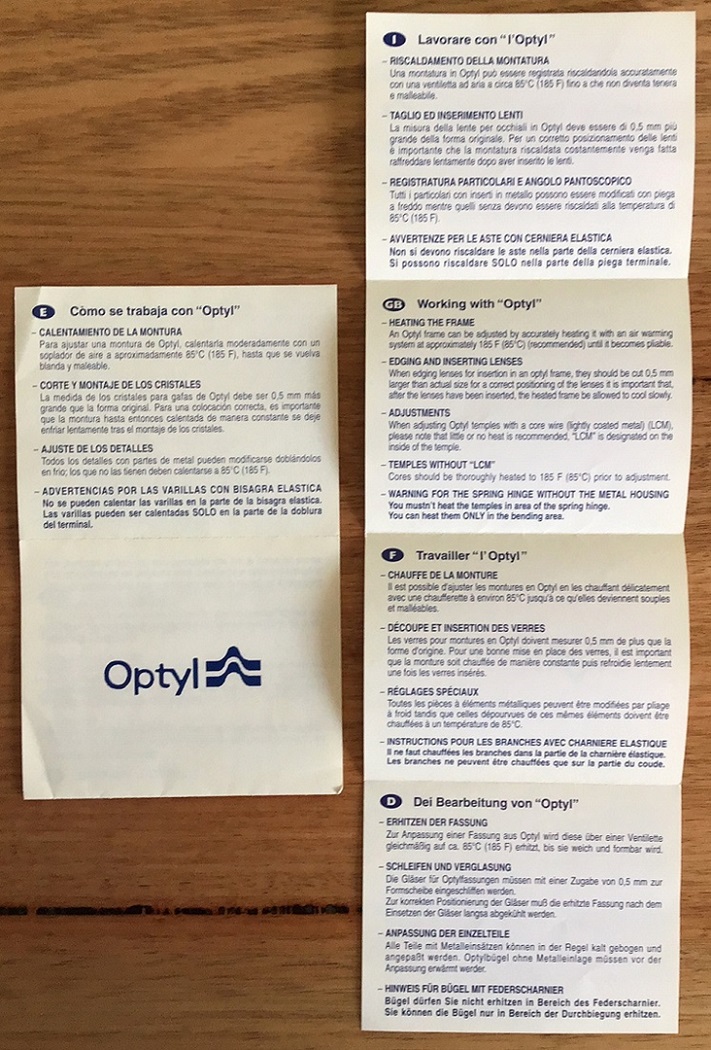 Working with Optyl Leaflet
Sub-Category:
Ophthalmic product manual/instructions
Corporation:
Safilo S..p.A
Year Of Publication/Manufacture:
Undated
Time Period:
1940 to 1999
Place Of Publication/Manufacture:
Padova, Italy
Publisher/Manufacturer:
Safilo S..p.A
Description Of Item:
Leaflet 100 mm x 84 mm printed blue on white trifold cover 'Optyl' containing instructions 'Working with 'Optyl''in Italian, English, French, German and Spanish. (2 Copies)
Historical Significance:
This leaflet probably dates from the 1980s when 'optyl' was being used for 'plastic' spectacle frames. Cellulose acetate was the most common plastic used for 'plastic' spectacle frames prior to 1975. It is often called zylonite, zylo or zyl in the USA or less commonly xylonite in the UK. Cellulose nitrate was used in earlier times (and also confusingly sometimes called zyl) but is highly flammable and has not been not used for many years. Polymethyl methacrylate (Acrylic, PMMA, Perspex) was used in the 1950s and 1960s but was never a common frame material. Epoxy resins began to be used in the 1970s under the name of 'Optyl' and it was claimed to be hypoallergenic and also less likely to distort CR39 lenses into a bitoric shape.
How Acquired:
Donated by Ian Bailey
Location:
Archive office. Pamphlet and ephemera filing cabinet. Drawer 9